Ruling the Roost: Meet five businesses who hatched out of New Venture Creation incubation programs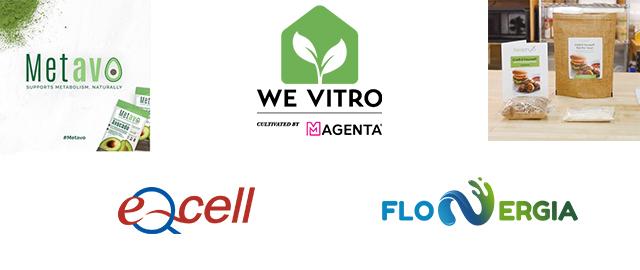 In 2017, the University of Guelph made a commitment to support academic entrepreneurship and formed a New Venture Creation team. Housed within the Research Innovation Office, these specialists support researchers who see commercial potential in their research. Offering incubation, mentorship and market research support, this group has helped researcher led teams to validate the market viability of their inventions and to create start-up companies to take innovative research-based products and services to market.
Many of these newly established companies are flourishing and gaining traction in highly competitive markets! Below we introduce you to five researcher founded companies that have achieved significant milestones in 2020, despite COVID-19 marketplace disruptions.
eQcell: This equine stem cell therapy company founded by Dr. Thomas Koch (OVC, Biomedical Sciences) is galloping ahead! Not only has eQcell been admitted into the highly competitive AC JumpStart acceleration program, they've hired a CFO and are developing international partnerships and fundraising to position themselves for a global scale up.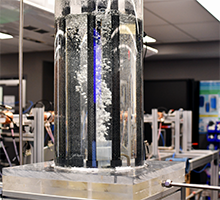 FloNergia: Commercializing technology created by Wael Ahmed (CEPS, Mechanical Engineering), this company is doing swimmingly! FloNergia is now supplying energy efficient, air-lift pumps to aquaculture and hydroponic growers in South American markets, such as Chile. They have recently secured patent rights for their air lift technology in China and look forward to expanding their sales into this promising market soon.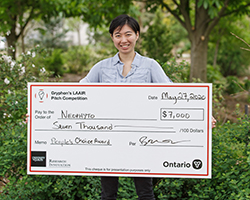 Neophyto Foods: Featuring a founder team comprised of graduate students supported by Arthur Hill (OAC, Food Science), these entrepreneurs have been spreading themselves out and winning big at multiple pitch competitions. Their first product is NeoCheese, a plant-based 'cream' cheese spread that came to market in December. More recently Neophyto also launched a clean label, plant-based ground meat product. While they continue to work with Accelerator Guelph, these founders have also been accepted into McGill's X-1 Accelerator and Innovation Guelph's Rhyze Program!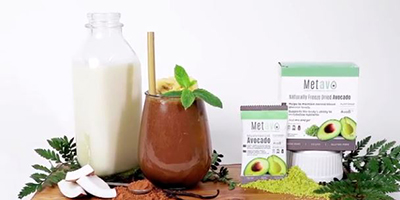 SP Nutraceuticals: This nutraceutical company was a recent runner-up for the prestigious Nutraingredients-USA Startup Award, and successfully launched their first product to market this year. MetAvo contains AvoB which is a powerful bioactive that targets the underlying cause of insulin resistance, helps to maintain normal blood sugar levels and improves metabolic rates.  Based on the research of Paul Spagnuolo (OAC, Food Science), these innovative new products are currently available via metavo.com and vitamart.ca and a national launch into natural health food stores is imminent.
We Vitro: Congratulations to founder Kevin Piunno, MSc, a graduate from Max Jones' lab (OAC, Plant Agriculture), who successfully exited from his plant tissue culture equipment business! We Vitro has been acquired by Magenta LLC, a provider of injection-molded products, assemblies, and packaging solutions. Magenta will continue providing the We-V Box (now the GVITRO Vessel) and add-on modules for businesses growing plants such as orchids, bananas and cannabis.
Are you a U of G researcher with a business idea?  Contact us anytime to get started on your entrepreneurship journey.
Share this page
Find related news by keyword