University of Guelph's Dairy Health Researcher Wins NSERC Synergy Award for Innovation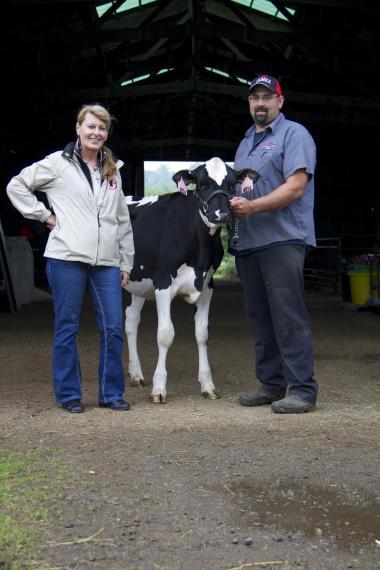 Join the Research Innovation Office in congratulating University of Guelph's Dr. Bonnie Mallard on her recent Synergy Award for Innovation, presented by the Natural Sciences and Engineering Research Council of Canada. This prestigious national award recognizes Dr. Mallard's work on genetic strategies to promote cattle immune health. Previously, Dr. Mallard also received the Governor General's Innovation Award, making her the first Canadian scientist to achieve both of these honours.
Dr. Mallard's research focuses on selective breeding strategies to enhance herd health by identifying individuals with naturally high immunity and, over multiple generations, producing cattle with more robust immune responses that better enable them to combat a variety of viral and bacterial challenges. This High Immune Response Technology (HIR) and the resultant Immunity+ ® cattle are now used in over 80 countries.
By having herds with stronger immune systems, farmers can reduce the rates of illnesses like mastitis, pneumonia, and lameness, as well as rates of mortality. This has benefits for animal welfare, farm productivity, and the costs of treating these health issues. Immune+ cattle also respond better to routine vaccinations and pass along greater benefits to calves via colostrum, the nutrient-rich milk produced within the first 24 hours of giving birth.
Globally, rates of dairy cattle illnesses have been increasing over the past 20 years, which poses risks for animal health and welfare as well as the stability of the food system. Previous strategies have focused on treating individual illnesses separately, which is costly and does not encompass all of the diverse immune challenges that cattle are likely to face. The Immunity+ approach better tackles these issues by enhancing the immune system as a whole, without sacrificing other valuable genetic traits.
This immuno-genetics approach supports a healthier and more sustainable food chain for Canada and the world with less reliance on antibiotics. With Semex Alliance as a partner in cattle genetics, next steps for this HIR technology include expanding this work to beef cattle. The Research Innovation Office has supported Dr. Mallard in developing the intellectual property associated with the HIR technology and in creating license agreements to facilitate commercialization by Semex.
Congratulations again, Dr. Mallard, for this outstanding accomplishment.
Share this page
Find related news by keyword