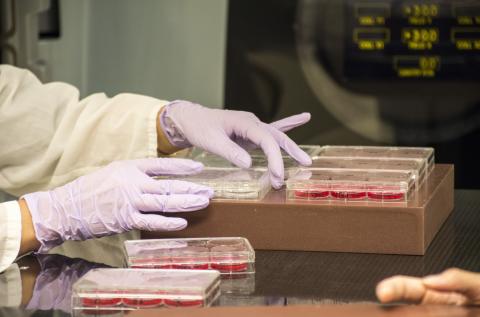 By Amy Westlund
Higher quality care for dogs suffering from osteosarcomas -- terminal, painful and aggressive bone tumours -- is on the horizon, and could lead to applications in human medicine.
Assistant Prof. Michelle Oblak, from the Department of Clinical Studies, recently discovered that the widely used method of combining radiation and bisphosphonates -- a group of bone-hardening and pain relief drugs – to treat canine osteosarcomas is not as effective as previously thought.
That's why she is studying the impact of different treatments on canine osteosarcoma cells to determine a more effective, pain-relieving treatment for canines suffering from the disease.
 "Osteosarcoma is a devastating disease for both dogs and humans," says Oblak. "Every bit of information we can gather to make headway toward better treatment options, understand the disease better and eventually find a cure is the ultimate goal."
Amputation of the diseased limb – the typical course of action after an osteosarcoma diagnosis in a dog -- is not always an option due to the aggressiveness of the cancer and physical limitations of a patient.
When amputation is not an option, radiation alone or radiation combined with bisphosphonates is used to treat canine osteosarcomas.
In a previous study, Oblak discovered that canine osteosarcoma patients who received a combination of bisphosphonates and radiation had worse survival times than those treated with radiation alone. This inspired her to begin an additional research project to further investigate these findings and determine more effective treatments.
To aid with her research, Oblak recruited DVSc. student Dr. Kate Hoddinott and third-year OVC student Sarah Laliberte. The group is collaborating with Dr. Tony Mutsaers, also from the Department of Clinical Studies, to investigate if varying the timing of bisphosphonate administration and using a newer generation bisphosphonate drug impacts the growth of osteosarcoma tumour cells.
Bisphosphonates are a group of drugs commonly used to alleviate pain in humans with osteoporosis and metastatic bone pain. Oblak says that this newer generation bisphosphonate appears to be highly effective, and has already displayed some anti-cancer effects in human studies.
Oblak hopes her study will have a translational component that will be beneficial across the spectrum of veterinary and human research.
"Dogs are an excellent model for humans as they live in the same environment and have very similar patterns in osteosarcoma as humans do," says Oblak. "Dogs and humans are also the two known species most affected by this disease."
Data collection for this project will be completed this fall. The results will determine the next steps for this research – however, Oblak hopes to implement canine clinical trials in three to five years.
Eventually, she hopes to see a similar study conducted on human osteosarcoma cell lines.
Additional collaborators for this project and members of Dr. Hoddinott's graduate committee include Dr. Geoff Wood (Associate Professor, Department of Pathobiology) and Dr. Sarah Boston (Adjunct Professor, Department of Clinical Studies).
Funding for this research is provided by the OVC Pet Trust.