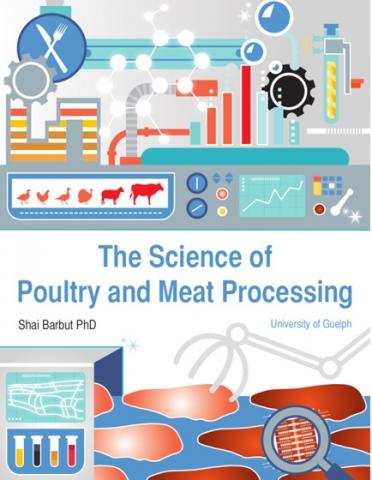 By Kyra Lightburn
Meat processing has reached a new plateau – and now, so has the most comprehensive textbook about it.
The Science of Poultry and Meat Processing, written by globally recognized meat processing researcher Prof. Shai Barbut, is a significant University of Guelph entry into the world of open-access texts, which are offered to users online at no charge.
Barbut's book details the most up-to-date and accurate research on key topics in the meat processing industry, such as automation, food safety, microbiology and product evaluation. Barbut, a global authority on poultry and meat processing and research, credits his family with giving him the idea to publish an open-access text.
 "My children asked me if I would consider making one of my books free online and, feeling a great sense of gratitude toward those who had contributed to my own education, I agreed it would be a good way to give back," says Barbut.
Michael Ridley, former Chief Librarian at the University of Guelph, acknowledges that Barbut is leading the way on campus with this new approach to publishing and knowledge dissemination.
"It is absolutely imperative to highlight the leadership of Shai in providing students and industry members around the world with this invaluable, cutting edge and accessible review," says Ridley. "Shai is a world renowned researcher on this topic and now, owing to him, we have a rigorous, peer-reviewed research publication available for everyone." 
Besides the cost, an important benefit of open access publications is the ability to continually update them, and include unlimited colour pictures.
Print editions may be produced every seven to 10 years. But new online knowledge and imagery can be integrated as fast as it is produced.
 "Already I was able to include information on a very new technology for poultry de-feathering in the text," says Barbut. "It uses steam and saves 70 per cent more water and energy over the older de-feathering methods and, undoubtedly, there will be more advancements like this we can accommodate."
The book offers a summary of the many advancements that have been developing over the last decade in the meat processing industry.
For example, with half as many workers involved, owing to high labour costs, technology and automation has been much more commonplace.  The result has been increased economic and production efficiency as well as quality control.
In particular, total computerization in meat processing has meant decisions about grading, sorting, inspections and marketing can be made before packaging or cutting in a production line. Cameras and software can analyze an animal's body structure and condition, to determine the end meat products hours prior to its entry into a robotic cutting facility.
"The meat industry has really embraced mechanization and automation which has moved it forward to its robust state," says Barbut. "More cutting edge advancements are expected and they will be guided by sound meat science principles." 
The Science of Poultry and Meat Processing is licensed under a creative commons non-commercial license and available for download at www.poultryandmeatprocessing.com  [1]