Kitchen and Dining Hall Composting
Kitchen Composting
Kitchen composting was launched as a pilot project at Creelman Hall in October 2017. With cooperation and support from Hospitality Services staff, all back-of-house organic waste was delivered to the Guelph Centre for Urban Organic Farming (GCUOF) for composting. At present, the program has expanded to include all dining locations on campus, and the annual volume of diverted food waste has more than tripled. For the F20/W21 semesters, compost is received by the City of Guelph instead of the GCUOF, but we continue to pick it up from all kitchen locations open during COVID-19.
The composting program is run by student employees and has had tremendous success in recent years. During the F19/W20 semesters, our kitchen compost program successfully diverted over 100 000 kg of food waste from landfills.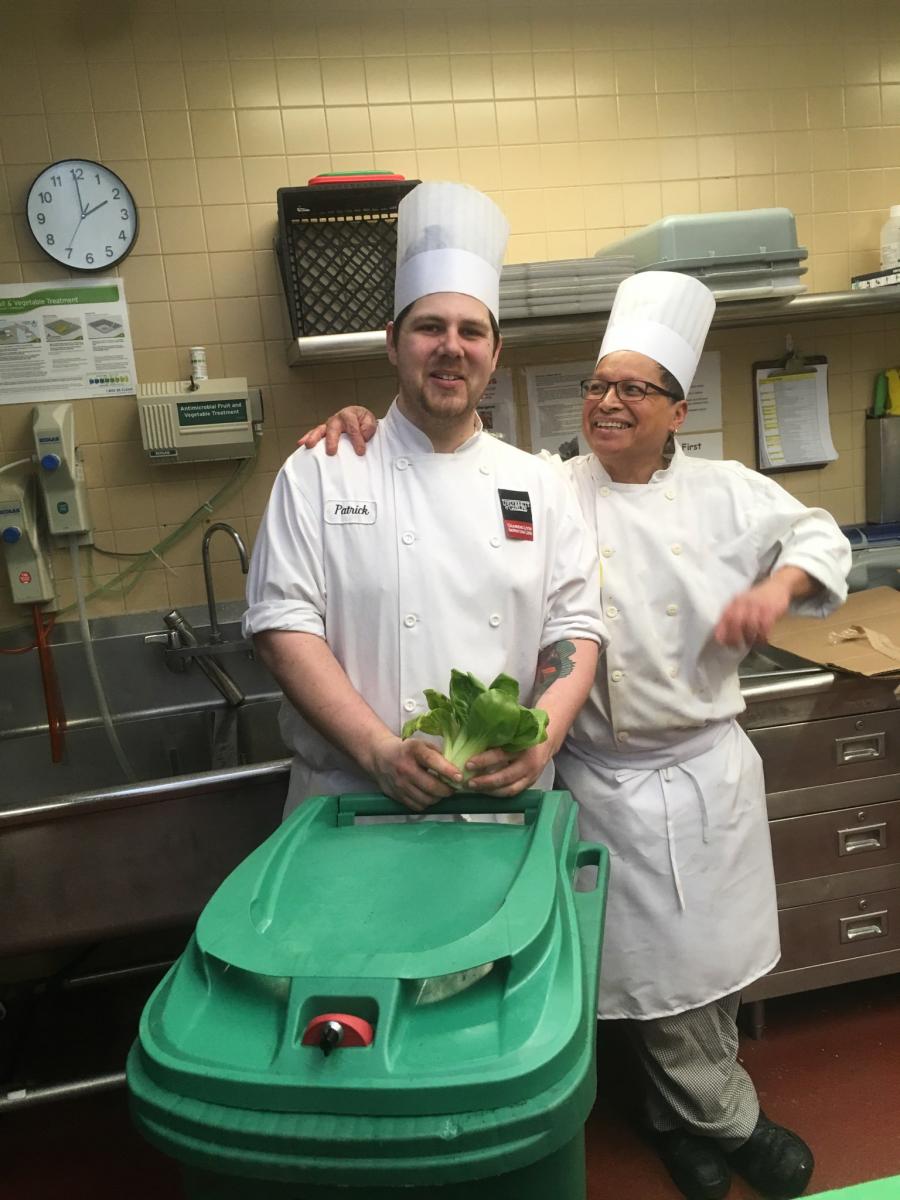 Front-Of-House Cafeteria Composting
In Winter 2020, we added a compost stream to the University Centre cafeteria. We are currently gathering more data to improve this program and expand to other locations in 2020.

The following coffee shops and kitchens are currently participating in our composting programs (Coffee To Compost or Kitchen composting):
University Centre – Level Zero Kitchen
University Centre - Cafeteria
Catering Services
Coffee Services
OVC Cafeteria Kitchen
Gryph's Sports Lounge Kitchen
Creelman Hall Kitchen
Brass Taps Kitchen
Mountain Hall Kitchen
Prairie Hall Kitchen
Lennox-Addington Cafeteria Kitchen
PJ's Restaurant in the Atrium
The Bullring
Second Cup – College and Gordon
Windows Coffee Shop – Mountain Residence
Pages Coffee House – MacNaughton
The Daily Grind – University Centre
Second Cup – Science Complex
Mack's – Mackinnon
Starbucks – Lennox-Addington
Starbucks – University Centre
Starbucks – Library
Tim Hortons – Thornbrough
Tim Hortons – Athletic Centre
Booster Juice – Athletic Centre
Childcare and Learning Centre Kitchen
Tim Hortons – University Centre
Cutten Fields Golf Club Kitchen


To find out more about our circular food economy here on campus see the annual organics report linked below.