Michael Rogers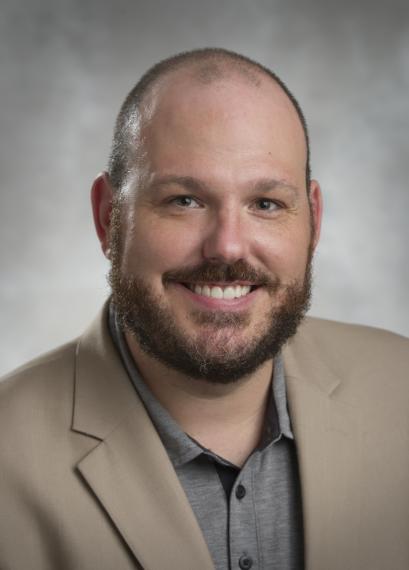 Tier II Canadian Research Chair In Food Nanotechnology
Phone number:
519 824 4120 extension 54327
Office:
Food Science Building, Room 118
Find Related People by Keyword
Associate Professor
Tier II Canadian Research Chair In Food Nanotechnology
Michael Rogers joined the Department of Food Science in 2014 after holding faculty positions at Rutgers University and the University of Saskatchewan and as the Center Director for the Gastrointestinal Physiology Center at New Jersey's Institute of Food, Nutrition and Health. He studies molecular gels, self-assembly of nano-fibers and nanotechnology, focusing on delivery of bioactives and the biophysics of digestion.
Meet Professor Michael Rogers YouTube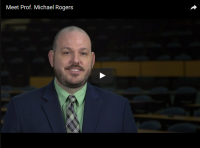 Academic History
B.Sc. in Food Science, University of Guelph (2004)
M.Sc. in Food Science, University of Guelph (2006)
Ph.D. in Food Science, University of Guelph (2008)
Affiliations and Partnerships
Associate Editor Food Biophysics
Chairperson Edible Application Technologies of the American Oil Chemists Society
Member of the Early Career Scientists' Section, International Academy of Food Science and Technology
Awards and Honours
Young Research Scientist Award, American Oil Chemists Society (2015)
Directors Award for Scientific Excellence, New Jersey Institute of Food Nutrition & Health (2014)
Endel Karmas Award for Excellence in Teaching, Department of Food Science, Rutgers University (2013)
Research Impact
Michael's research focuses on the development of long-term solutions for health by changing how foods are manufactured from a lipid (fat) standpoint. Most solid foods that have a high fat content contain mostly saturated and trans-fats; Michael looks to find technologies that can be used to replace these with unsaturated oils while keeping the desired physical properties of the original food product. Specifically, he hopes to find a new ingredient technology that can be added to gel the unsaturated oils. Although current research and industry objectives focus on short-term innovations, Michael believes that permanent solutions for health will evolve from careful, long-term changes to how foods are produced and processed prior to consumption.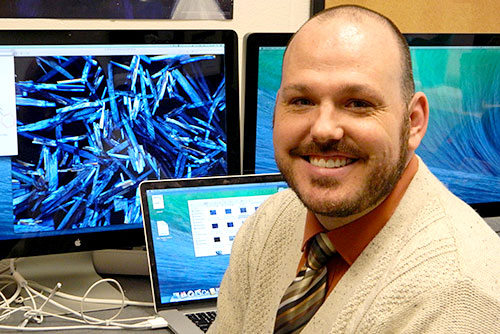 Current Research
What drives molecules to self-assemble?
In this area of research, Michael's team works with sugar- and lipid-derived molecules that can be modified and analyzed for molecular nuances that drive their self-assembly. Knowledge and understanding of these mechanisms are key to the development of technologies that will allow for the replacement of unhealthy lipid constituents with better alternatives, such as unsaturated oils. Currently, his team is looking at the molecular features of 1,3:2,4-dibenzylidene sorbitol, a well-known molecular gelator that self-assembles and crystalizes in a wide variety of solvents. Modifications such as the replacement of benzene groups with cyclohexyl groups and oxidation of alcohol groups are also performed for comparison of molecular features as related to the ability to self-assemble.
What is the link between the physical properties of a material and its digestibility?
In many foods, the methods of manufacturing and processing prior to consumption can greatly influence how they are digested. Michael's research in this area looks at the impacts of food processing on the chemistry of food materials and, ultimately, on the body's interaction with and absorption of nutrients from them. He recently received a grant from the Canadian Foundation for Innovation for the purchase of a simulated gastric system, which will allow his team to look at the effect of food form on digestibility in a synthetic environment. His initial projects using this system will compare lipid forms (i.e. polymorphism and crystal size) in terms of their impact on the rate of triglyceride cleavage to free fatty acids in the simulated gastrointestinal tract.
Graduate Student Information
Graduate student opportunities in Michael's laboratory are advertised on his lab website.
Michael's lab runs within a hierarchy framework, where graduate students are the foundation of his team's research projects. Students at the master's level are provided with a project and a general outline of the methods they are expected to follow. Ph.D. students are expected to define the methods to be used and create the experimental design. All graduate students are assigned a project with the expectation that they will publish their findings. Depending on the scope and size of the project, they may have undergraduate students working under them; this will allow graduate students to learn how to manage and supervise students.
Michael maintains milestones that must be met before a student can write their thesis and graduate from the program. It is expected that students at the master's level will publish at least one paper, and students at the Ph.D. level a minimum of three. Michael has a hands-on advisory style and maintains an open-door policy with his students. He believes that this is an iterative process, and works closely with students to ensure that timelines are met. When a graduate student joins his team, he works with them on method development, literature review and lab training.
Michael's past graduate students have worked on projects such as comparing the effect of oat processing on digestibility, comparing formulations of Similac to human breast milk in terms of their rates of lipid release during digestion, and determining how solvents affect molecular gelators, rather than only looking at the gelator's molecular features. Students have gone on to faculty positions and multinational corporations such as PepsiCo and Johnson & Johnson.
Featured Publications
Lan, Y., Corradini, M.G., Weiss, R.G., Raghavan, S.R., and Rogers, M.A. 2015. To Gel or Not to Gel: Correlating Molecular Gelation with Solvent Parameters. Chemical Society Reviews. 44, 6035- 6058.
Lan,Y., Corradini, M.G., Liu, X., May, T., Borondics, F., Weiss, R.G., and Rogers, M.A.,* 2014. Probing Solubility Parameters Governing Self-Assembly of Molecular Gels. The case of 1,3:2,4-Dibenzylidene Sorbitol. Langmuir.30, 14128-14142.
Rogers, M.A., Feng, Q., Ladizhansky, V., Good, D., Grahame, D.A.S., Bryksa, B.C., Smith, S.A., Corridini, M, Lim, L.-T., Guild, B., Burnet, P.-G., Shim, Y.Y., Reaney, M.J.T. 2016. Self-Assembled Supramolecular Fibrillar Networks Comprised of an Orbitide.  RCS Advances. 6, 40765-40776.
Szakal, C., Roberts, S., Westerhoff, P., Bartholomaeus, A., Buck, N., Illuminato, I., Canady, R., and Rogers, M.A.* 2014. Measurement of Nanomaterials in Foods: Integrative Consideration of Challenges and Future Prospects. ACS Nano.  8, 3128-3135.
Rogers, M.A., 2016.  Naturally Occurring Food Nanomaterials.  Current Opinion in Food Science.  7, 14-19.
For a full list of Michael's publications, visit his Google Scholar page.
Related Links
https://twitter.com/@Michael45261405