The Exercise and Health Study is Recruiting!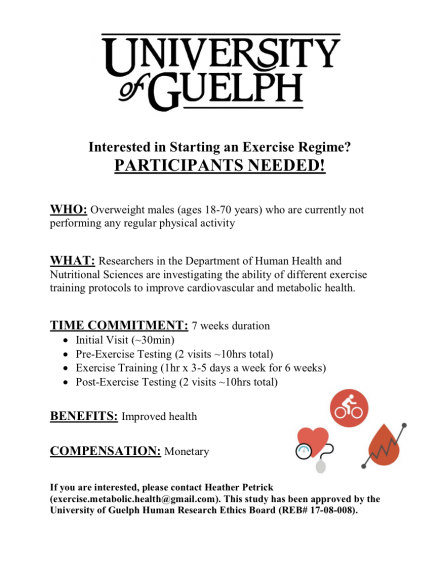 The University of Guelph Human Performance and Health Lab is recruiting overweight males, ages 18-70 years, for a research study investigating the ability of different types of exercise protocols (endurance or sprint training) to improve cardiovascular and metabolic health. The Exercise and Health study is 7 weeks in duration, involving:
Two pre-exercise visits: 

one will be assessing non-invasive markers of cardiovascular health and metabolic responses drinking a high-glucose beverage. The second will involve drinking a high-fat milkshake beverage and providing hourly intravenous blood samples (University of Guelph Human Nutraceutical Research Unit).

Exercise 3-5 times per week for 6 weeks on a stationary bike at the University of Guelph

: performing either interval exercise (repetitions of 30sec with 2min rest, 3 days/week) or continuous exercise (30-40min, 5 days/week). 

Two post-exercise visits

 similar to the initial visits above.
$100 monetary compensation is provided for completing this study. If you are interested, please contact exercise.metabolic.health@gmail.com for more information.  (This study is approved by the University of Guelph Human Research Ethics Board REB#17-08-008).
Share this page
News Topics