SCRIBE Research Highlights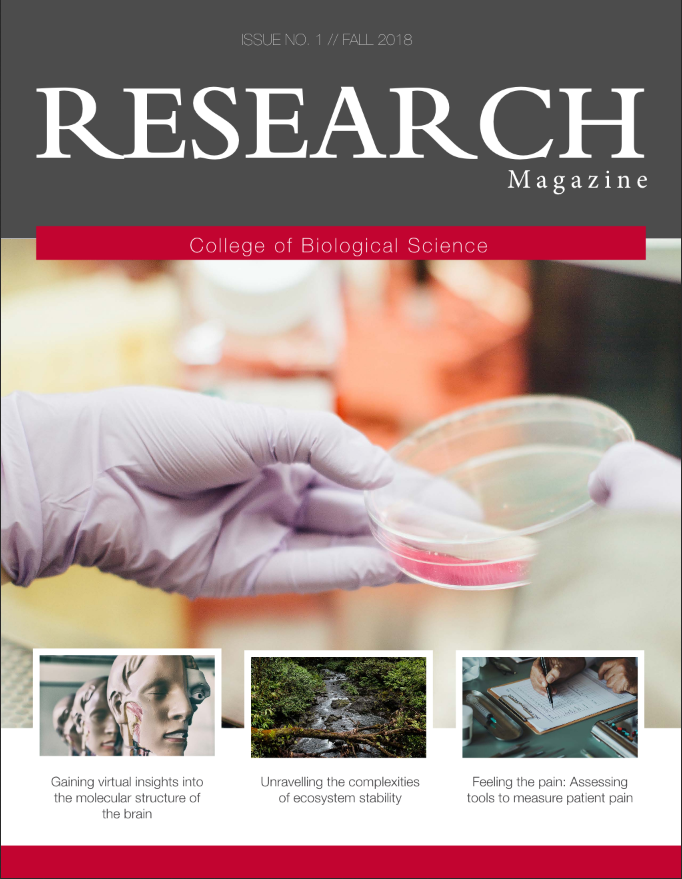 The College of Biological Science is home to a wide range of innovative and interdisciplinary research programs. The research stories highlighted here showcase just some of the exciting discoveries emerging from our labs and field sites. New stories are posted regularly, so check back often. You can also follow us on
Twitter
or
Facebook
where we share our latest articles.
Research stories in CBS are written by graduate students in the SCRIBE (Students Communicating Research in Biology Education) program. SCRIBE writers take an active role in translating and communicating research results for non-specialist audiences as they develop their knowledge mobilization skills.
More SCRIBE stories can also be found in the newly launched CBS
Research Magazine (PDF)
, which is now available online or in print.
Current Story
---
---
Past Stories
---
| Date | Image | Article Title |
| --- | --- | --- |
| Dec 17, 2020 | | No More "Use it or Lose it": New Discovery May Stave Off Muscle Loss During Post-Injury Recovery |
| Dec 1, 2020 | | A Diagnostic Bull's-eye? Researchers Use Platelets and Citrate to Take Aim at Lyme Disease |
| Oct 28, 2020 | | This is your brain (waves) on drugs |
| Sept 18, 2020 | | Ribosome Royale: A Specialized Secret Agent in the Fight to Detect Cancer |
| July 6, 2020 | | Caring for Caribou: Understanding How Logging Affects Survival of a Threatened Species |
| June 10, 2020 | | Help Me Genome, You're My Only Hope: A Fishy Resistance Story |
| May 28, 2020 | | Take This to Heart: TBC1D1 May Help Reduce Risk of Heart Disease in Diabetics |
| May 7, 2020 | | Blooming Change: A Story of Adaption |
| Mar 13, 2020 | | It Takes a Village: Citizen Scientists Monitor Canada's Favourite Butterfly |
| Feb 28, 2020 | | Eat Lots, Fly Early: Supplemental Feeding Leads to Earlier Fledging in Canada Jays |
| Feb 21, 2020 | | Together We Stand, Divided We Fall: How Microbes Cooperate in the Human Gut |
| Feb 4, 2019 | | We Can't Direct the Wind, but We Can Adjust the Sails: Using Models to Predict Hypoxia in Lake Erie |
| Jan 24, 2020 | | You are What You Eat, but What Should Your Food Eat? Feed-additive Benefits in an Antibiotic-free Future |
| Jan 16, 2020 | | Historical Fish Stocking Records may Hold the Key to Saving the Yellowstone Cutthroat Trout |
| Jan 7, 2020 | | Bold is Best: How Personality Impacts Mating and Chick Survival in Arctic Seabirds |
| Dec 6, 2019 | | A Tale of Two Worlds: Emersion and Exploration Behavior in an Amphibious Fish |
| Nov 5, 2019 | | What's Really in your Protein Powder? |
| Oct 22, 2019 | | When Cutting Off Blood Supply is A Good Thing: Using Ischemic Preconditioning to Enhance Exercise Performance |
| Oct 1, 2019 | | How to Find a Needle in a Haystack, Fast |
| Sept 16, 2019 | | Limited Oxygen Builds Stronger Alligator Hearts, Study Finds |
| Sept 4, 2019 | | Why You Should Keep Your Finger on the 'Pulse' of Carb Substitutes |
| Aug 15, 2019 | | Water, Sugar, Salt: A Winning Combination in Hockey |
| Aug 7, 2019 | | Limited Phosphorous Supply? Try Your Friendly Neighbourhood Fungi |
| Aug 2, 2019 | | Growing Up is Hard: Study Explains High Mortality in Sea Urchins Following Metamorphosis |
| July 30, 2019 | | Breaking Taboo: Understanding the Evolution of Menstruation |
| July 25, 2019 | | How Rapid Evolutionary Change has Made Landlocked Salmon Less Seaworthy |
| July 22, 2019 | | Tips for Healthy Living: Eat Healthy, Exercise, and…Spit in a Tube |
| July 16, 2019 | | To Divide or not to Divide? That is the Question Being Answered by Dlx Proteins in Developing Embryo Cells |
| July 10, 2019 | | More than Just a Hunger Hormone: Ghrelin Could Help Prevent Diabetes |
| July 3, 2019 | | Fruit Flies (Yes, Fruit Flies!) Reveal New Insights into Animal Aggression |
| June 28, 2019 | | Frogs of a Stressor Evolve Together |
| June 24, 2019 | | Candy or Chips? An Analysis of Taste Preferences and Why it Matters to Your Health |
| June 13, 2019 | | A Step Forward in Understanding Injurious Fall Risk in Older Adults |
| May 29, 2019 | | The "Goldiloxygen" Zone: Finding the Oxygen "Sweet Spot" for Growing Human Cells in the Lab |
| May 29, 2019 | | Poop Bacteria versus C. difficile: Pathogen Proves to be a Complex Opponent in the Battle Between Good and Bad Gut Bacteria |
| May 22, 2019 | | 'Tis but a Scratch! Damselflies Lose a Limb to Escape Predators in the Nick of Time |
| May 13, 2019 | | Go Ahead and 'Sweat It': How to Survive as a Fish Out of Water |
| May 8, 2019 | | DNA May Provide Clues Towards Personalized Treatments for Metabolic Syndrome |
| May 1, 2019 | | Genetic Study of Early Maturing Salmon Yields Surprise Discovery |
| April 25, 2019 | | Got Mussels? Understanding Why Turbid Rivers Have More Bivalve Shellfish |
| April 16, 2019 | | Getting to the Heart of the Matter in Aquatic Ecosystem Stability |
| April 12, 2019 | | Making Sense of Moving Through Life |
| April 5, 2019 | | Biting the Bullet: Why Some Canadians and Wildlife Literally 'Eat Lead |
| April 2, 2019 | | Feathered Jet Setters: Tree Swallows Map out Complex International Routes and Stopovers During Migration |
| March 29, 2019 | | Study Shows How Agrochemicals Can Increase Risk of Parkinson's Disease |
| March 26, 2019 | | Know Your Enemy: Do Invasive Species Evolve More Rapidly? |
| March 22, 2019 | | When it Comes to Overtraining in Athletes, Less May be More |
| March 20, 2019 | | Bill C-69 Fails to Deliver on Indigenous Consultation and Knowledge Systems |
| March 14, 2019 | | Investigation into Novel Gene Mutation Provides Surprising Insights into Rare Kidney Disease |
| March 6, 2019 | | New Study Explains Link Between High Fat Diet and Diabetes |
| February 26, 2019 | | Fishing for Answers: Using Seabirds to Better Understand Fish Populations |
| February 19, 2019 | | Are Strawberries too Tasty to Evolve? |
| February 11, 2019 | | How to Build a Better Trap for an Invasive Pest: Study its Personality |
| February 4, 2019 | | Unfolding the Mystery of How Plants Defy Dehydration |
| January 28, 2019 | | Winter Blues? Study Suggests Exercise Builds both Fitness and Cold Tolerance |
| January 18, 2019 | | Fatty Acids Tell a Genetic Story about Health Risks, Says Study |
| January 7, 2019 | | Uncovering New Pieces of the Bacterial Cell Division Puzzle |
| December 13, 2018 | | Tape: the Latest Weapon Against Back Pain |
| December 12, 2018 | | Linking Humans to Fisheries Food Webs |
| November 21, 2018 | | Zebrafish Moms May Protect Eggs from Stress with Hormone that Reduces Cell Death |
| November 8, 2018 | | Combatting Obesity with 'Methyl Donor' Micronutrients |
| October 12, 2018 | | Novel Potential Role for Vitamin D During Puberty |
| September 26, 2018 | | Helping farmers avoid sour grapes: researchers develop test for hidden viruses in Ontario's vineyards |
| September 12, 2018 | | CBS Turns a Scientific Eye to Improving Teaching and Learning |
| August 30, 2018 | | Researchers Get it "Right" in the Study of Heart Failure |
| August 22, 2018 | | Solid and Liquid Fat Get Digested Differently, Says Study |
| August 16, 2018 | | Herbal Medicine Fraud: Do You Know What's in Your Pill? |
| August 8, 2018 | | Reduced Skin Sensitivity in Older Adults May Contribute to Poor Balance |
| August 1, 2018 | | Plant Movement Important for Wind Pollination, Study Says |
| July 25, 2018 | | Study Paves Way to Better Identify and Treat Important Pathogen |
| July 18, 2018 | | Starting out Strong: Inspiring Lifelong Dietary Habits in Preschoolers |
| July 11, 2018 | | Tick Tock: Calibrating the "Molecular Clock" to Date a Species' Evolutionary History |
| July 5, 2018 | | Understanding How Cellular Components Function as a Team |
| June 27, 2018 | | How to Multi-task with Ease: Train the Body and Mind as One |
| June 20, 2018 | | Want to Know How to Survive Extreme Environments? Ask an Amphibious Fish |
| June 14, 2018 | | Revealing the Hidden Relationships Inside Plant Cell |
| June 7, 2018 | | Regulating Blood Flow Takes Team Work |
| May 31, 2018 | | Not All Frogs are Created Equal When it Comes to Measuring Environmental Quality |
| May 24, 2018 | | When Brain Regions Can't Communicate, and How to Prevent It |
| May 17, 2018 | | New Research Reveals How Our Body Responds to Muscle Fatigue |
| May 9, 2018 | | Deciphering Mode of Bacterial Infections Could Help Cystic Fibrosis Patients Breathe Easier |
| May 1, 2018 | | Lichens: a Bellwether of Biodiversity in City Parks |
| April 18, 2018 | | New Possible Drug Targets Emerge for Drug-Resistant Tuberculosis |
| April 9, 2018 | | Genetics Help Power Atlantic Salmon Restoration |
| March 28, 2018 | | Unlocking the Potential for Lipid Production in Plants |
| March 21, 2018 | | You Can't Make a Sea Urchin Without Breaking Some Cells |
| March 16, 2018 | | A Study in Purple: an Emerging Symbol for Healthy Food |
| March 8, 2018 | | Common fluorescent label has unintended impact on health of zebrafish |
| Feb 23, 2018 | | Study Discovers Unexpected Ability in Cell-trafficking Protein |
| Feb 7, 2018 | | Study Shows New Twist on Mind-muscle Connection |
| Jan 26, 2018 | | Gaining virtual insights into the molecular structure of the brain |
| Jan 10, 2018 | | Iron Deficiencies More Common in Elite Athletes than Previously Thought |
| Jan 10, 2018 | | "Junk" DNA Predicts Body Size in Seed Shrimp |