Welcome to the College of Biological Science
Message from the Dean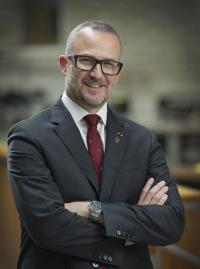 "I have the honour of serving as this college's fifth Dean. I'm very proud of the dedication of our faculty and staff. The service they provide to our students, our academic disciplines, our industrial and governmental partners, our alumni, and society as a whole, is second to none. It is because of them that we have an active, vibrant teaching and learning environment where knowledge is not only translated and transferred, but it is also created. It is the faculty and staff that make this college such a strong and welcoming scholarly community. I invite you to explore the college through these webpages, but better yet, come visit us!"
- Jonathan Newman, Dean
About:
The College of Biological Science (CBS) provides high quality research, learning and a social environment that encourages and promotes comprehensive understanding of all aspects of the biological sciences. Comprising of three academic units—Human Health and Nutritional Sciences, Integrative Biology, and Molecular and Cellular Biology—CBS offers a range of well-respected undergraduate and graduate programs than the discipline from DNA to ecosystems.
Stats:
Approximately 4500 undergraduate and 400 graduate students are pursuing one of 13 undergraduate major programs, and 9 graduate degree programs. The college has 100 full-time faculty and 50 full-time staff. The research funds awarded to the college in the 2015/2016 fiscal year were $19.5 million.
Location:
Summerlee Science Complex, Room 1320
University of Guelph
Guelph, ON, N1G 2W1