Welcome to the College of Biological Science
Message from the Dean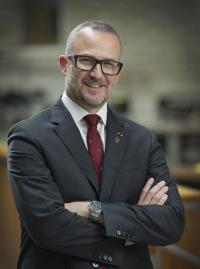 When I took over as Dean in August of 2015, the college was at a crossroads. It was coming out of a decade in which it was reorganized administratively, physically reconfigured in a new building and completed a major curriculum restructure. The burning question was "where do we go from here?" Of course, I had my own ideas, but I wanted the college to articulate its own vision for the future.
In 2016, CBS initiated the creation of a new five-year strategic plan. We issued an open call for faculty, staff and graduate students to join a committee charged with leading stakeholder consultations- an engagement process that lasted more than a year. This committee held many meetings, town halls, heard from senior leaders in the University, from the Council of Ontario Universities, from employers, alumni, students, and others. Together, we created the framework for what eventually became the College of Biological Science Strategic Plan 2018-2023: Inspired Research and Scholarship in Biology.
Various iterations of the plan went back and forth to the college for input and was eventually approved. I am pleased to say that the final plan received unanimous support. The document presents CBS's strategic priorities, distinct identity and long-term vision while underscoring our core mission to expand the understanding of life, from DNA to cells to complex ecosystems.
In 2021, the College of Biological Science will celebrate its 50th anniversary since its founding. Building on the past successes of our faculty, staff, students and alumni, this plan very much describes who we are, what we aspire to be and how we will get there together.
- Jonathan Newman, Dean
---
About:
The College of Biological Science is a globally-recognized academic faculty with a mission to expand the understanding of life, from DNA to cells to complex ecosystems. It produces intrepid and interdisciplinary research in a student-centred learning environment that encourages and promotes comprehensive understanding of systems that govern life.

Our unique constellation of infrastructure, institutes, facilities and research stations enable interdisciplinary partnerships and collaboration that lead to impactful research, scholarship and teaching opportunities.

CBS houses 100 full-time faculty and 50 full-time staff and attains approximately $20M in funding for basic and applied research every year. The college offers 13 undergraduate and 11 graduate degree programs across three departments and one institute: Human Health and Nutritional Sciences, Integrative Biology, and Molecular and Cellular Biology, and the Biodiversity Institute of Ontario. Nearly 4500 undergraduate students, 400 graduate students, and many thousands of engaged alumni are members of the vibrant CBS community.
---
Location:
Summerlee Science Complex, Room 1320
University of Guelph
Guelph, ON, N1G 2W1