CME Students Impress the West!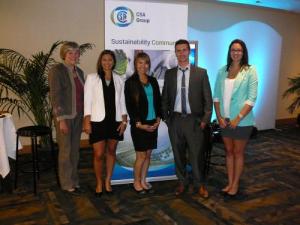 A team of four students from the Department of Marketing and Consumer Studies was selected to present the results of their course project on "Standards for Academic Integrity" at the Canadian Standards Association's (CSA) National Academic Challenge in Calgary in June, 2013.  Four projects from the Quality Management course selected by a panel of judges within the College of Management and Economics (CME) were then evaluated by a panel of judges from across Canada in order to select three finalists. 
One of our four submissions, authored by graduating students Conor Butt, Kota Dang, Megan MacIvor, and Sara Merlini was selected as one of the three finalists and these students received all expense paid trips to Calgary to present their project at a special plenary session during the CSA Annual General Meeting.  Our students did an excellent job with the project and with the actual presentation, and were in every way a credit to the CME and to the University of Guelph.  The winner, chosen by electronic vote by the entire audience was a student from the University of Ottawa.  By universal agreement, however, all finalists were "winners", and we will be back next year!
Any undergraduate student project related to standards or standardization in the broadest sense, from any course, is eligible.  For further information, please contact Anne Wilcock, Department of Marketing and Consumer Studies.