Associate Professor Brent McKenzie visits Embassy of Canada to Estonia, Latvia and Lithuania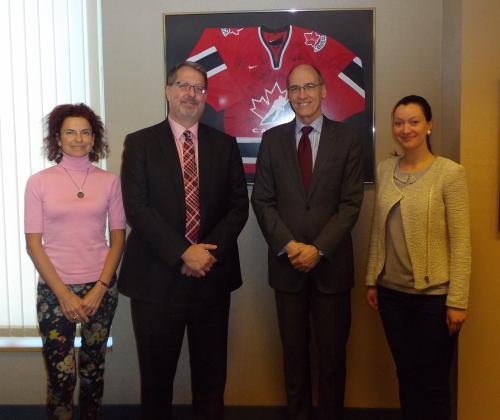 Associate Professor Brent McKenzie recently met with John Morrison, Canadian Ambassador to Estonia, Latvia and Lithuania, and his staff to discuss potential research collaboration in the area of Canadian business development. As a result of his visit with Ambassador Morrison, he has been asked to write an article about Canadian food, culture and lifestyle for a Latvian publication, as well as give potential presentations promoting Canadian industry in support of the Canadian Embassy and the Canada Latvia Business Association.
The meeting is part of his research trip to Latvia which has also included presenting at the Baltic Management Development Association (BMDA) conference and attending the Cruise Europe conference. The Cruise Europe Conference supports his research on the marketing of cruise ports in the Baltic region. During his stay in Latvia, McKenzie will also meet with the Rector of the Stockholm School of Economics in Riga to discuss the possibility of future collaborative education opportunities, as well as with a Baltic company to further his research on the use of electronic shelf labels in the food retailing sector, comparing Europe to Canada.