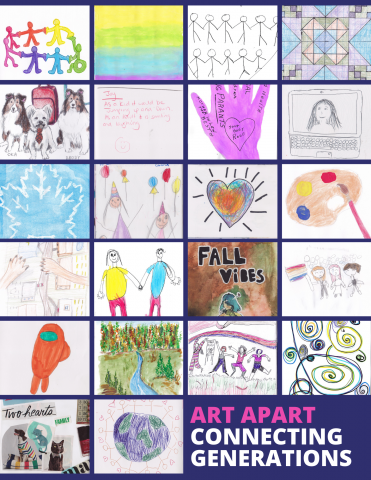 By Sydney Pearce and Caitlin Ford
Mitigating COVID-19 isolation for vulnerable seniors and children is the goal of an innovative project led by a University of Guelph history professor.  
Martin and her team assembled 70 blank journals and mailed them to seniors in long-term care homes and to children in low-income and single-parent households across Ontario. The journals contained writing prompts related to COVID-19 that invited participants to express themselves creatively.  
Participants mailed the completed journals back to U of G, where Martin's team of students scanned them to make digital copies. They then mailed the copies to different participants as a journal exchange between generations. 
"Connecting Generations received positive feedback from participants and from community visitors to the virtual gallery, has encouraged creative expression during a time of isolation and has given these individuals a sense of community," she said. 
The project grew from another networking initiative that Martin launched during the pandemic. Art Apart is an online project intended to help artists connect online and to share their work virtually. The project drew submissions from across Canada.  
Diversity in Public Makerspaces 
Martin's research interests include looking into the gendered aspects of the maker community and the relationship between making and crafting. 
Earlier, she co-founded The MakerBus, a portable and adaptable technology education space. To study inclusion and accessibility of public makerspaces in southern Ontario, she worked with Diyode, a Guelph makerspace, on a DIYversity Project leading hands-on creative workshops for women and the LGTBQ2 community. 
Connecting Generations was supported by the U of G Creating in a Time of Coronavirus fund with additional funding and support from the College of Arts. The DIYversity Project was funded by a SSHRC Partnership Engage Grant.