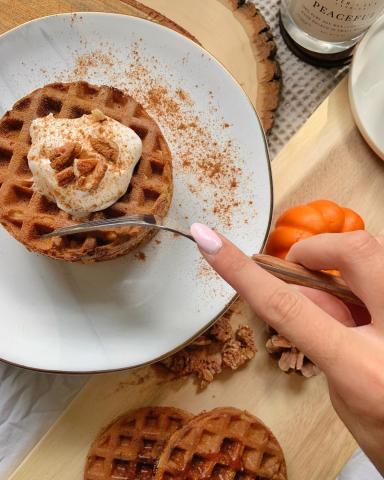 By Cate Willis
Nourishing waffles are the focus of a new start-up business launched out of the University of Guelph entrepreneurial ecosystem. 
Domenique Mastronardi founded The Happy Era, an online waffle delivery business, while pursuing her bachelor's degree in biological engineering at U of G. She came up with the business idea while creating a sustainable product for a bioprocessing engineering course. 
She drew on her passion for healthy eating. 
"I'm really sensitive to how my mood and productivity change, and I know this relies heavily on how I take care of myself," Mastronardi said. "I know there are factors that make me feel productive like sleeping well, exercising and eating well, and eating well is a big one for me."
"I want to be able to help other people feel really good, happy, productive and energized."  
Having to spend long days on campus and lacking prepackaged breakfast food that was healthy, tasty and filling convinced Mastronardi there was an opportunity for her to create a nutritional alternative.  
"I noticed that I could find prepackaged breakfast food, but it was pretty sugary and missing sustenance," she said. "I thought there's a pretty big void in the market for good-tasting prepackaged food that's packable, so I decided to go with waffles." 
She entered Project SOY, an annual U of G student competition focused on plant-based innovations. Her waffles, containing juice pulp, potatoes and soybeans, won first place in the undergraduate category. 
Now Mastronardi uses gluten-friendly ingredients such as almond flour and coconut flour to make her waffles.
"I just want to offer reliable nutrition in a way that tastes good," she said, "so offering more products can accommodate more dietary needs and then also accommodate those without dietary needs who want to eat healthy versions of more normal foods." 
After competing in Project SOY, now known as Project SOY Plus, she connected with U of G's John F. Wood Centre for Business and Student Enterprise at the Gordon S. Lang School of Business and Economics. Through the centre's Hub Incubator program, Mastronardi tested and scaled-up her business model.
"I went through their program and I connected with an amazing network of people that I'm still close with today and, by the time I was done, I had a company up and running," she said. "So I started with them in September of 2020 and I sold my first waffle in February of 2021 – it was a pretty quick incubator process." 
"We were happy to support Domenique through our Hub Incubator program here at the John F. Wood Centre with the Lang School of Business," said April Albano, program manager with the centre. "She is one of over 100 hub companies to graduate from our incubator program since its inception in 2014 and we are so proud of her accomplishments."
After Mastronardi started her master's degree in food engineering this year, she connected with U of G's Research Innovation Office (RIO).
"While the Research Innovation Office has great programs to support entrepreneurship, the continuum of care available on and off-campus to small businesses like The Happy Era is critical," said Jessica Bowes, assistant vice-president, research innovation and knowledge mobilization with the RIO. "We are thrilled to collaborate with the John F. Wood Centre for Business and Student Enterprise and Innovation Guelph to connect entrepreneurs with support services that set them up for success."  
Mastronardi has also benefited from business support services at Innovation Guelph and Guelph Summer Company.
The University of Guelph is co-sponsoring Innovation Guelph's third annual Ontario Innovation Expo on Oct. 21. The Wood Centre, the RIO and The Happy Era, along with several other U of G start-up companies, will be represented at this virtual event. For more information and to register, visit Ontario Innovation Expo's website.
"I have received so much support from University of Guelph's entrepreneurship ecosystem," Mastronardi said. "The Happy Era wouldn't be where it is today without all of their support and guidance.
"I'm excited to see where this new chapter leads."
The Research Innovation Office is funded in part by the Research Support Fund, the Ontario Agri-Food Innovation Alliance and the Canada First Research Excellence Fund.