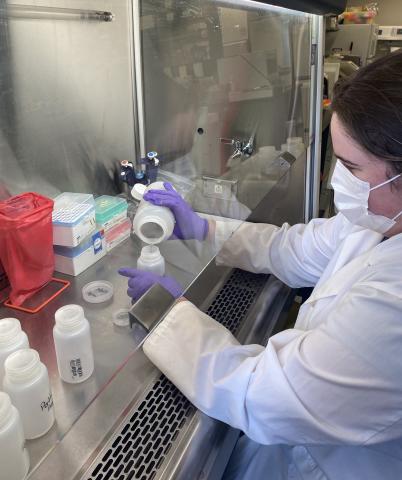 By Mya Kidson
University of Guelph researchers are looking to help improve COVID-19 testing protocols by monitoring wastewater for the pandemic-causing virus. 
Dr. Marc Habash, a professor in the School of Environmental Sciences, and his research team are developing a disease tracking model for COVID-19 using wastewater.  
"We've got a lot of expertise at the University that has been useful in driving this kind of testing forward, and it's been accelerated through a partnership between the province and other universities," says Habash. 
Much like microorganisms that cause intestinal illness can be detected and analyzed through wastewater, the SARS-CoV-2 virus, despite being a respiratory pathogen, can be shed and detected in fecal matter.  
The researchers receive samples from eight wastewater plants and six upstream sites, three times a week, in municipalities across Ontario including five U of G residences. 
To detect and measure the pathogen's genetic material in wastewater, researchers collect RNA, an important molecule in the proliferation of the COVID-19 virus, from samples and analyze it using a technique similar to the one used for COVID-19 swab tests.  
Swab tests are an important way to understand what's happening in a specific group of people that have been tested, says Habash, but the drawback is that you can't test everyone. 
"Wastewater surveillance is a great way to survey an entire population served by a particular wastewater treatment plant, he says. "We can use wastewater to help pinpoint which communities or cities are getting potential spikes -- this is called wastewater-based epidemiology." 
Sampling wastewater has the potential to predict an outbreak before it happens, he says. This surveillance can be crucial for setting public health policy and informing the public. 
Habash is now looking at other uses of wastewater sampling, such as testing for other pathogens – gastrointestinal viruses and influenza – where little information is available on how these pathogens spread.  
"Who knew that poop could tell us so much? It's not just a waste product – it holds a lot of valuable information that we can utilize to help improve the health of the general public," says Habash.   
The research team includes Dr. Lawrence Goodridge, Department of Food Science; Dr. Ed McBean, School of Engineering; and Dr. Heather Murphy, Department of Pathobiology.  
This research is supported by the Ontario Ministry of the Environment, Conservation and Parks through its wastewater surveillance initiatives, as well as the University of Guelph Research Development and Catalyst Fund.