Accelerator Guelph company Neophyto Foods Leverages Guelph Entrepreneurship Ecosystem to Rhyze and Shine!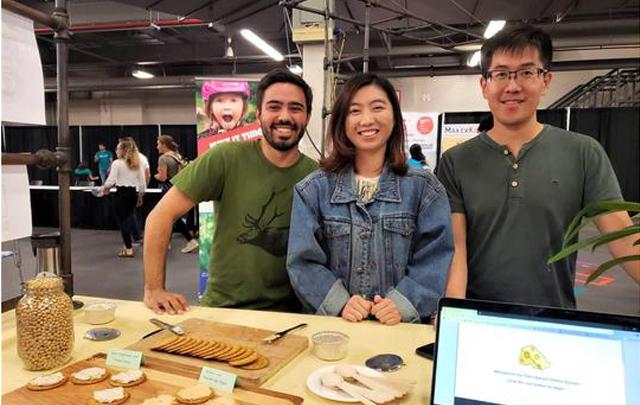 Jane Ong, co-founder of Neophyto Foods, won the $25,000 grand prize at the 2020 Rhyze and Shine! Pitch Competition on October 21, 2020. The event was the culmination of the first cohort of the Rhyze Ventures program that helped female entrepreneurs to optimize their business and leadership skills through classes, business projects, mentorship, and pitch training. Nine entrepreneurs in the Rhyze cohort, including Ms. Ong, won a semi-final competition and advanced to compete in the final pitch competition where Ong took top prize.
"I am humbled and honoured to be recognized amongst the other amazing female entrepreneurs in Rhyze!" says Jane Ong. "The program has helped us to build upon the foundations we laid down with Accelerator Guelph and this prize will really enable us take our business to the next level. Being a part of Rhyze Ventures has given me so much support and helped Neophyto to grow tremendously; in fact, we are launching into retail stores this fall!"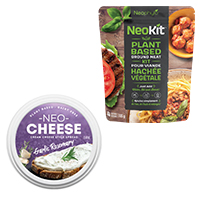 Neophyto's business journey began in 2017 when Ms. Ong and co-founder Kamil Chatila-Amos entered a soy cheese concept into the University of Guelph's Project Soy Plus competition, an experiential learning program where students envision innovative ways to apply science and ingenuity. At the Project Soy Plus showcase event, their prototype cheese (which is now marketed as a bagel spread called NeoCheese) intrigued Vice President of Research Malcolm Campbell, PhD.
"I was so impressed by this team and their delicious product that I took a sample to the Research Innovation Office where I was sure that our tremendous business development and tech transfer folks would bring their enthusiasm and innovative thinking to bear to elevate what Jane and Kamil had created," remembers Malcolm Campbell.
The duo was invited to participate in the Accelerator Guelph incubation program; now, just three years later, the partners have progressed from being grad students looking for a fun way to apply their learning to business owners with a company that investors are watching.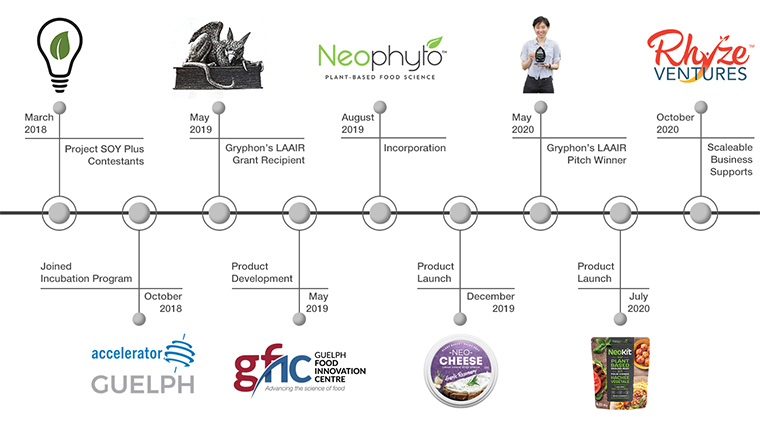 "While founders deserve a lot of credit for their tenacity, it takes a village for most new businesses to succeed," notes Dana McCauley, who leads Accelerator Guelph and continues to mentor the Neophyto Foods team. "Our program specializes in helping researchers to turn their inventions into market ready innovations which is a very specialized task. Likewise, the Rhyze Ventures program specializes in providing important supports that help female founders to develop the business and leadership skills they need to succeed as entrepreneurs. With these programs and more in the area, Guelph is a great place to start a business!"
Vice President Campbell points out that Guelph has developed into a place where entrepreneurs can transform their ideas and start-up impulses into success stories. "Experiential learning programs like Project Soy Plus have helped many students to discover that they have the skill to translate knowledge into innovation. Those that go on to access commercialization programs here on campus and in the community often see tremendous outcomes," he notes.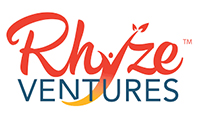 Award winning Innovation Guelph CEO, Anne Toner Fung agrees. "Rhyze Ventures is one of the many business accelerator programs offered by Innovation Guelph that research-driven companies emerging from the University of Guelph have accessed," says Toner Fung. "As part of the business support 'village' in Guelph-Wellington, we've been privileged to collaborate with the University of Guelph to nurture many innovative companies as they grow and contribute to building Canada's economy."
Recognizing the value of this community, and to further facilitate collaboration between the on- and off-campus groups who offer specialized services and supports for small and growing businesses in the Guelph area, the Research Innovation Office has created the Guelph Guide to Entrepreneurship, where anyone can find out what's happening and what's available to help Guelph based businesses to flourish. If you have need resources, or have new items to add to the guide please use the submit a suggestion form.
Share this page
Find related news by keyword