Behind the Office Door: Emily Gordon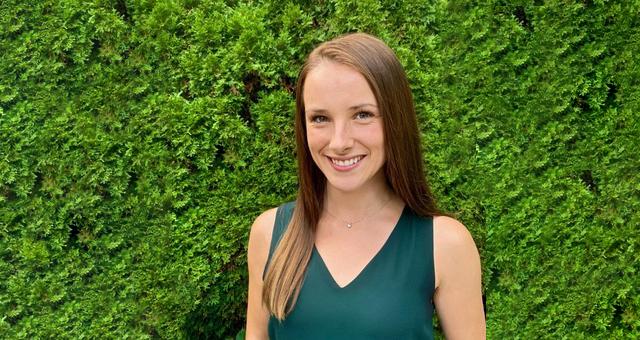 In this blog series, we introduce you to our team members and the work they do to help University of Guelph researchers to maximize the real-world impact of their work.  
---
Introducing Emily Gordon, Mitacs Business Development Specialist – University of Guelph.
Q: First of all, Emily, welcome back to the University of Guelph. As a two-time U of G grad you already have deep connections within the community; what are you most looking forward to about reconnecting?  
Thank you! It's great to be back at the University of Guelph, albeit virtually for now. The university's partnership with Mitacs has significant opportunity to positively impact innovation, work-integrated learning and graduate training at Guelph and I'm looking forward to being apart of that the most. I'm also looking forward to reconnecting with former faculty members that I met during my time on campus and all of the new faculty and students that I will be meeting!
Q: Your position is a bridge between Mitacs programming, industry, and faculty and students here at the University. Can you tell us a bit more about what your role involves and the work you will be doing?
A bridge is a great way to describe this role. For those who aren't familiar with Mitacs, we are a not-for-profit organization that provides funding programs to support innovation, work-integrated learning and student training opportunities at educational institutions across Canada in collaboration with industry partners. At the university, I will be working with the Office of Research, the Experiential Learning Hub and the Office of Graduate and Postdoctoral Studies to promote and support Mitacs program delivery across all colleges. There are many ways that Mitacs and industry partners work collaboratively with the university right now, and I will focus on increasing the number of these opportunities available. I'll also be a resource for faculty, students and post-doctoral fellows for all things Mitacs and guide applicants through the proposal and application process.
Q: You've jumped into your new role during unusual circumstances: with the COVID-19 pandemic continuing to impact our communities, physical distancing and work from home policies are still in place – what are you enjoying or finding challenging? What's keeping you motivated?
A: It's certainly been interesting starting a new role during a pandemic, but I recognize that research needs to continue moving forward (especially COVID-19 research) so that has been very motivating for me! I've really enjoyed the opportunity to meet so many people in a short period of time thanks to many virtual meetings.
Q: Mitacs offers a number of program opportunities for industry, researchers and students. Is there a program you're particularly excited about?
The Mitacs Accelerate program is the one that I am especially keen to promote as it offers the greatest opportunity for students, especially those in graduate programs, to complete paid internships that serve industry goals and the University's research enterprise.  Further, Accelerate grants are customizable and flexible; they can work for thesis-based and course-based students and so I am excited to see if we can expand the number and quality of Accelerate grants  at the University of Guelph. In light of COVID-19, Mitacs has also created new initiatives - including incorporating municipalities into our partnerships - to accommodate current research needs. Our Twitter and Newsletter are great resources for program changes and updates!
Q: Are there other ways faculty and students can learn more about Mitacs programs?
Our website www.mitacs.ca provides a comprehensive overview of our programs, requirements and eligibility. I would be happy to speak with interested faculty and students if they have specific questions about the programs offered. I can be reached at egordo05@uoguelph.ca.
---
Emily will be working closely with Industry Liaison staff in the Research Innovation Office,  the Experiential Learning Hub and the Office of Graduate and Postdoctoral Studies to increase opportunities for University of Guelph graduate students, post-doctoral fellows, and faculty to take full advantage of available Mitacs programs and funding.
Share this page
Find related news by keyword