Dynasty: A Guelph-Grown Legacy and 2022 Seed of the Year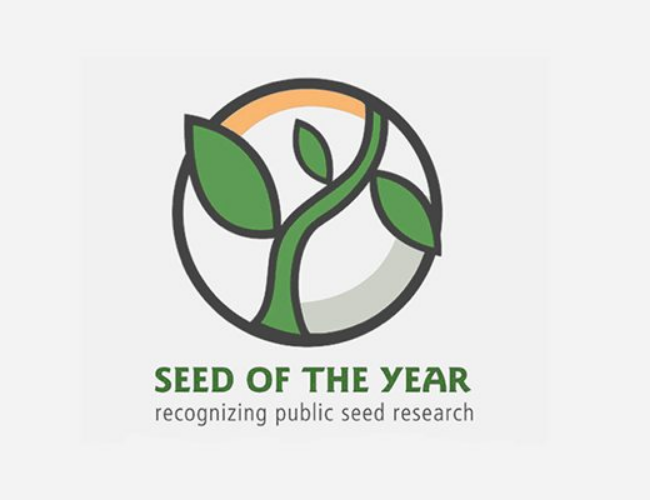 The dark red kidney bean variety that is taking over the market has its roots at the University of Guelph.
The Dynasty Dark Red Kidney Bean represented only 5 percent of Ontario's dark red kidney bean acreage a mere 8 years ago. But today, Dynasty comprises a whopping 90 percent. And the impact continues to grow – Dynasty is approaching 50-60% of dark red kidney bean acreage across all of North America, which is a feat unparalleled by other varieties. If you've eaten a dark red kidney bean recently, chances are it was a Dynasty.
It's not hard to see why the Dynasty variety is so valuable to farmers. It has wide adaptability, excellent yield potential, and is tolerant to stress. Dynasty increases yields by 15 percent, compared to other varieties of kidney bean. These traits and the important role Dynasty plays in the North American bean system has earned it the recognition as 2022 Seed of the Year, and honour presented by SeedWorld Group.
Dynasty was developed by University of Guelph bean breeding experts Dr Peter Pauls and Tom Smith. This dynamic duo has developed and commercialized over 30 new bean varieties since 2003, including OAC Dynasty (a dark red kidney bean) and OAC Yeti (a white kidney bean), both of which were brought to market by Hensall District Co-operative Inc., and OAC Inferno (a light red kidney bean) brought to market by SeCan Association. Twelve of their new bean varietals are available for licensing this year in Canada and the US, including white navy, black, cranberry, kidney, and pinto bean varieties.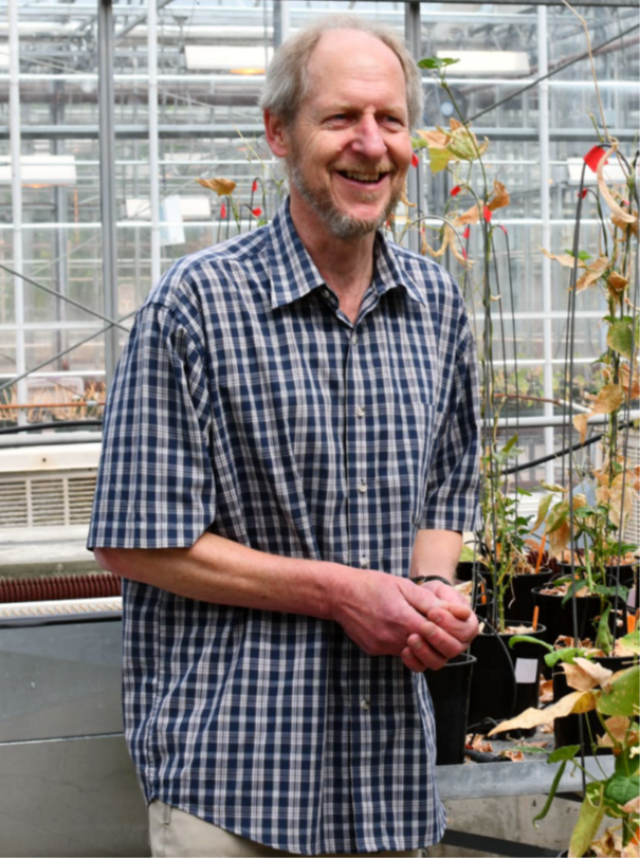 Dr Peter Pauls stands with trial beans nearing ready for harvest. (Photo by Junelle Fisher)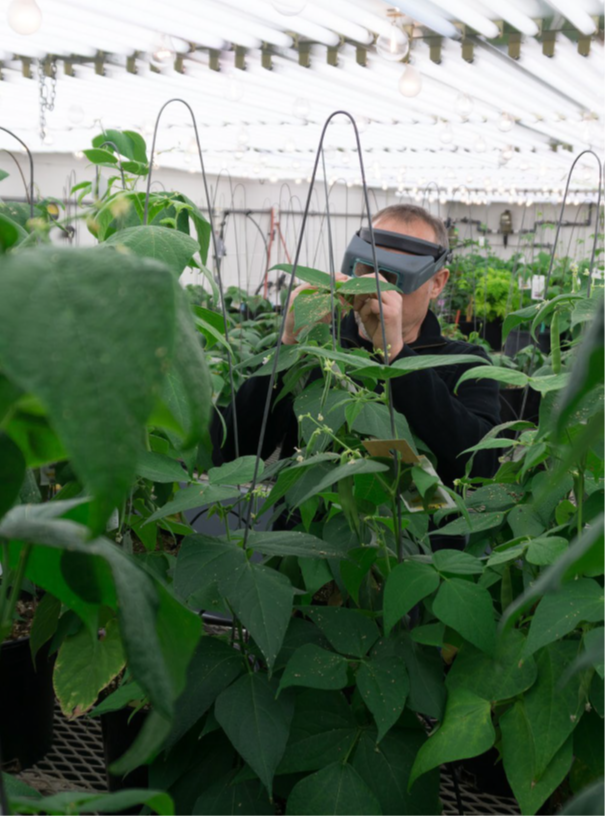 Research technician Tom Smith manipulates the small parts of a bean flower to cross-pollinate bean plants. (Photo by M. H. Peppard)
The University of Guelph has a long history of developing high-quality food-grade crop varieties. In fact, this is the third time that a Guelph-grown crop has won Seed of the Year. In 2008, the honour went to OAC Kent, a soybean developed by this year's Plant Breeder of the Year Dr Istvan Rajcan, and 2013's winner was OAC Bayfield, also a soybean.
University of Guelph dry bean licensing revenues increased by nearly 25% in 2019-2020 compared to the previous year, largely driven by the growing impact of Dynasty. The Research Innovation Office assists researchers in bringing innovations such as Dynasty into the market, including protecting intellectual property, building partnerships with industry, and launching products into commercial spaces.
"We're proud of the impact that Dynasty has had and its contribution to agriculture in Ontario and elsewhere" says Steve De Brabadere, the Director of Technology Transfer & Industry Liaison at the Research Innovation Office. "UG's breeding programs have been producing award-winning varieties for growers for over 100 years. Programs led by people like Dr. Pauls, Dr. Rajcan and other help to continue and grow that legacy".
Interested in licensing Dynasty or another UofG-developed crop? Contact the Research Innovation Office Germplasm Manager at germplasm@uoguelph.ca.
Share this page
Find related news by keyword