The Forgetfulnots - OVC - 2010 Competition
Performance
https://www.youtube.com/watch?v=Jw2d9UjNQoo
Profile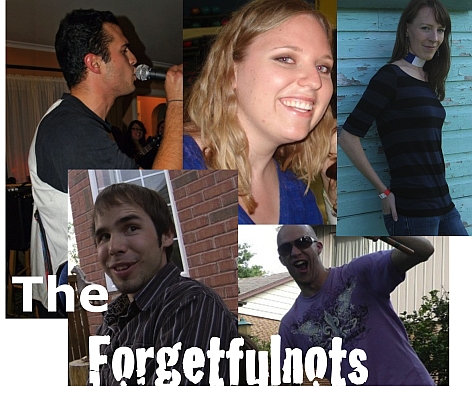 The Forgetfulnots are a group of students from the Ontario Veterinary College's Class of 2014, the Emerald Elephants stemming from a variety of backgrounds.
Vocalist, Whitney DeGroot, has been in several competitive choirs and for the last few years has been working on learning to play the guitar. She has two dogs and spends a lot of her free time walking them and frequenting off-leash parks.
On bass is 2014 class president, Chris Whipp, who is proficient on both guitar and bass guitar. He has been playing since the age of 12. 
Mike Krystolovich is playing the keyboard today, but has also tested his abilities on the tenor saxophone and strummed a few guitar chords. In his spare time he enjoys playing hockey, hiking and canoe tripping. 
Ryan Appleby is the resident guitarist, who has spent several years honing his skills. He can be found acting as the class vice president. Ryan, Chris and Mike can all be found representing the Emerald Elephants on the hockey rink. 
Shari van de Pol is a multi-instrumentalist who enjoys playing different musical styles, but especially music in the Irish music tradition. She started playing this traditional music while living in Belfast, NI and has continued this in Canada. Shari plays the guitar, whistle, fiddle, mandolin, bodhrán and sings, and is representing us on the drums today.