Student Campaign
2023 Student Campaign Events
Brass Taps Charity Trivia Night!
Come support United Way while testing your trivia skills and potentially winning some prizes! 
Event is taking place Wednesday, November 15th at 7:00 pm at Brass Taps!
Ticket price: $8 (Includes entry into the event, potential prizes for winners and food/drink deals!)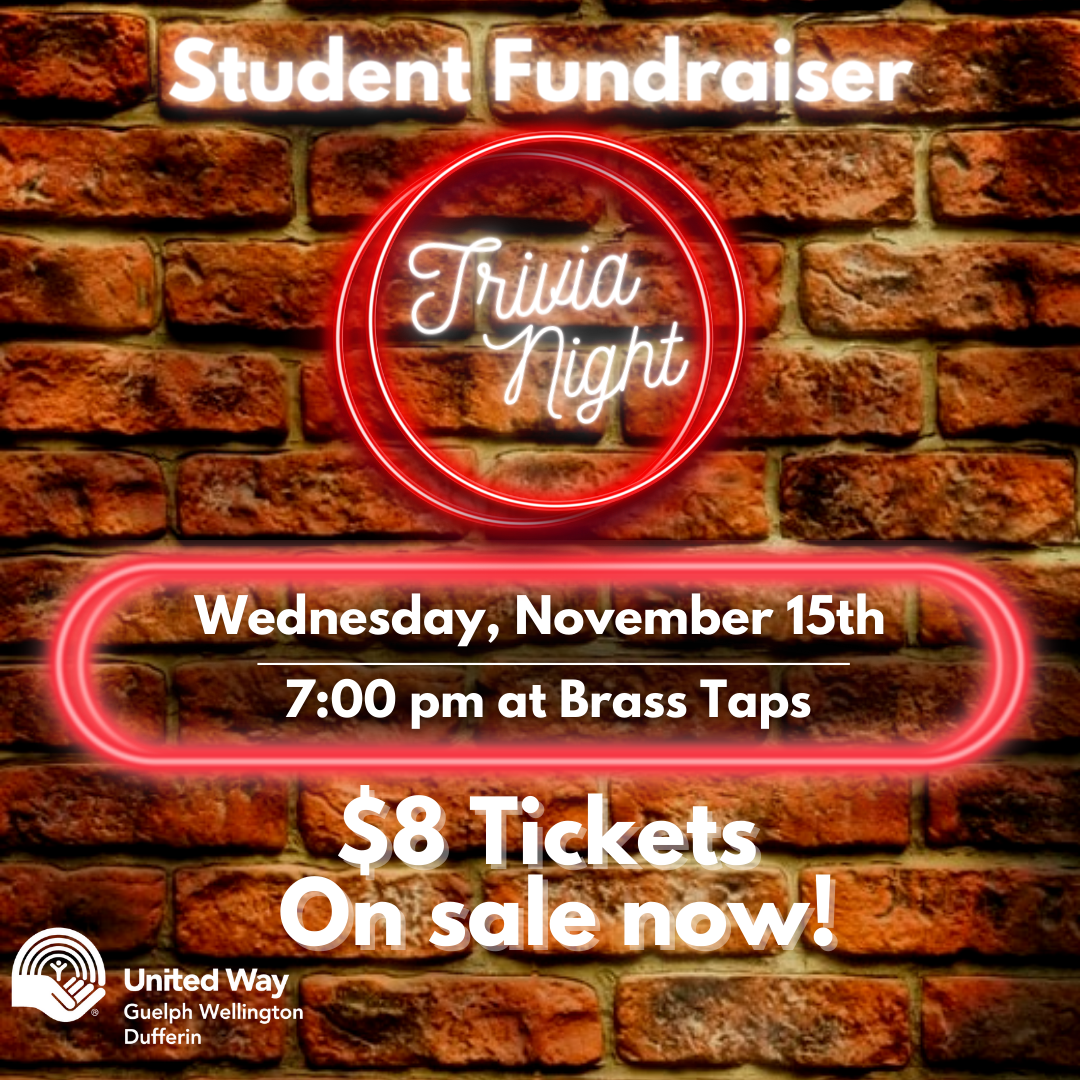 Bottle & Can Drive
Support U of G's United Way Student Campaign. Save and collect your empties from Halloween and other events during October! All proceeds from returned bottles and cans go to U of G's United Way campaign.
You can drop off empties at the United Way Office (85 Westmount Rd Guelph) Tuesdays - Thursdays in October and November Between 8:30 am and 4:30 pm
Alternate times or pickup can be arranged, please contact Josh@unitedwaygwd.com
Club/Student Group Assistance
Student Group Can Drive Poster
Get Involved!
The University of Guelph is committed to improving lives alongside community partners like The United Way.  During the fall semester, students are encouraged to run fundraisers benefiting the United Way Guelph Wellington Dufferin as part of the University's United Way Campaign.

United Way Guelph Wellington Dufferin brings people and resources together to address pressing social issues in the community. We believe our community and the people in it matter and know that we can help each other live better lives.
We Can BE BETTER.  #betterispossible
Fundraise For The United Way
Host a fundraiser for United Way with your student group/club, or a group of friends.
Student Fundraiser Information
Fundraiser Application Form
Connect with Josh Berube for more details - Josh@Unitedwaygwd.com
---
Why We Got Involved
"As part of the University of Guelph community, I had the opportunity to learn about local agencies that fund students on campus and in the community. It gave me a voice to speak about student causes to canvas for funds"- Sasha Monteiro
"Being involved in this years United Way campaign for the University of Guelph has already been an immensely rewarding opportunity. It's awesome to see students all over campus donating and volunteering for such an amazing charity. Looking forward to the semester ahead!" - Remy Orpen
---
Volunteer
If you would like to volunteer your time at some of the student events, send us an email and we will let you know where the help is needed. The University of Guelph's United Way committee is always seeking volunteers for our various fundraising events.