CEPS Graduate Student Research Day 2022
Location
Summerlee Science Complex, Room 1511
Details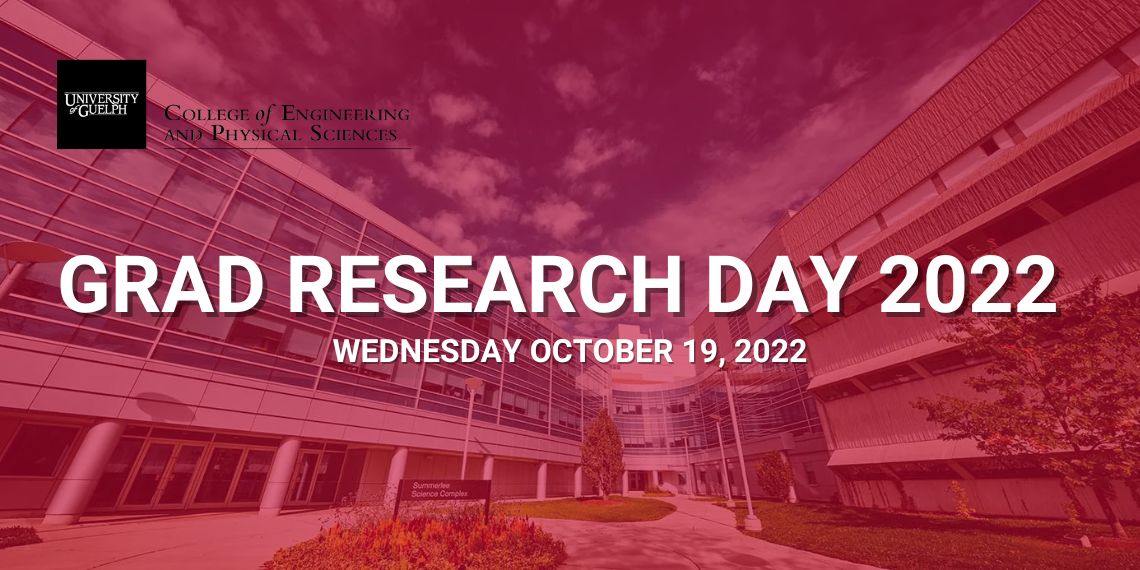 The College of Engineering and Physical Sciences (CEPS) invites graduate students from all units (chemistry, computer science, engineering, mathematics and statistics, and physics) to participate in our Graduate Student Research Day.
What is Grad Research Day?
The CEPS Graduate Student Research Day is a CV-building and learning opportunity for Master's and PhD students across the College's academic units. This event will provide:
Experience presenting your research through either a 3-minute talk in the style of the 3-minute thesis competition or a poster presentation;

Learning opportunities within and between academic units;

Award opportunities; and

The opportunity to gain insight into life after graduate school from the perspective of academia, government and the not-for-profit sectors.
Who can participate?
Graduate students who are registered in a CEPS research-based Master's or PhD program or who have just defended their thesis are eligible to participate in the poster and oral presentations. All students, faculty, staff, alumni, and industry partners are invited to attend.
Agenda and Activities
| | |
| --- | --- |
|  9:00 am – 9:05 am |  Welcome and brief remarks |
|  9:05 am – 9:50 am |  Poster Presentations |
|  9:55 am – 10:55 am |  Oral Presentations |
|  11:00 am – 11:50 am |  Panel Discussion |
|  11:50 am – 12:00 pm |  Awards presentation and closing remarks |
Presentation Format
Oral Presentation
Oral presentations will follow the same guidelines as the three-minute thesis competition. Additionally, students will be allotted 2 minutes to answer questions.
Poster Presentation
One poster board is allocated to each poster presentation. The maximum poster size allowed is 58 inches by 47 inches, recommended orientation is landscape. Each poster presenter is required to defend his/her poster during the respective poster session slot to be eligible for awards.
Students should discuss their intention to participate with their advisor and give serious consideration to authorship and intellectual property.
Presentation slots are on a first-come, first-serve basis, if you are not able to be part of the oral presentations you will be given the option of presenting a poster presentation, if there is space.
Award Opportunities
All presenters will be eligible for 1st and 2nd place awards.
Winners will receive the following cash prizes:
$500, 1st place oral presentation

$250, 2nd place oral presentation

$300, 1st place poster presentation

$150, 2nd place poster presentation
About the Panel
Life After Grad School
Life after graduate school is always a mystery. Some people know from the moment they enter undergraduate studies where they want to end up, while others continue on their educational paths because they are life-long learners. After graduating from your Master's or PhD it is time to select the path into your future career. Our diverse panel will be discussing how graduate school prepared them for their career paths in academia, government and the not-for-profit sectors. Additionally, the University of Guelph's Student Support Services will be outlining their supports and advice. Our aim is to build a dialogue around the unique ways that graduate school is preparing you for diverse and unsuspecting career paths.
Rui Huang, Assistant Professor (ECR), Department of Chemistry, University of Guelph
Dr. Rui Huang received her BSc degree in Chemistry from Peking University, China, and completed her PhD at the University of Michigan, where she was trained in protein NMR spectroscopy under the supervision of Prof. Ayyalusamy Ramamoorthy. She then continued her postdoctoral research under a CIHR fellowship in Prof. Lewis Kay's laboratory at the University of Toronto. Dr. Huang joined the Department of Chemistry at the University of Guelph as an Assistant Professor in 2020. The Huang lab is interested in understanding molecular mechanisms of protein complexes, and particularly large protein assemblies, through studying their structures, dynamics, and functions. She uses advanced Nuclear Magnetic Resonance (NMR) techniques in combination with other structural biology tools, such as cryo-Electron Microscopy, as well as other biophysical and biochemical techniques to determine the 3D structures of the proteins, study protein-protein interactions, characterize their functional dynamics, and provide information and strategies to design therapeutics for intervening their functions.
Mallory Jutzi, Air Quality Analyst, Ministry of Environment, Conservation and Parks
Mallory Jutzi is an Air Quality Analyst with the Ontario Ministry of the Environment, Conservation and Parks Southwest Region, based in London Ontario. Her work focusses on evaluating air monitoring data measured across southwestern Ontario, comparing air quality data to health and environmental standards, and analyzing data for spatial and temporal trends. She has provided statistical guidance on projects in program areas including hydrology, hydrogeology, and pesticides. Prior to her present role as an Air Quality Analyst, Mallory worked in the field of water resources with the Ministry of the Environment, Conservation and Parks, in water quality and quantity management programs. Mallory has an Honours Bachelor of Science in Applied Mathematics and Environmental Science from Western University (2008). She graduated with a Master of Science in Mathematics from the University of Guelph in 2010, where she completed her thesis (on the topic, "Mathematical Modelling of Biofilm Growth and Quorum Sensing") under the supervision of Dr. Hermann Eberl, in the Biomathematics and Biostatistics working group. During her Master of Science program at the University of Guelph, she also conducted research at the Helmholtz Centre Munich - German Research Centre for Environmental Health with a collaborative team of mathematicians and biologists. When she is not working, Mallory spends time with her family, including playing outdoors as often as possible with her two young children. She also enjoys reading and playing badminton.
Ryan Osman, Water Resources Specialist and Field Photographer, Water First
Ryan Osman holds a Bachelor's degree in Environmental Engineering (2015) and a Masters degree in Water Resources Engineering (2017), from the University of Guelph, with a focus on hydrogeology and climate change monitoring. He also gained experience in photography while working along with environmental organizations and with the surf industry. Ryan Osman is a new generation francophone Photographer and a Water Resources Specialist of colour based out of Wasaga Beach, Ontario. His work sits at the intersections of environmentalism and photojournalism. As a quiet observer, he aims to capture the conflicting and connecting roles of humans when interacting with nature. He endeavours to bridge his work to the many underrepresented and marginalized communities whose access to the arts, nature, and sports, have been historically, and continually denied. Over the years, he has worked with a variety of BIPOC athletes, organizations, brands, communities, and individuals to showcase their work/talents, as well as learn, and listen to their ideas, issues, and stories. Since 2019, Ryan has been working as a Water Resources Specialist and Field Photographer for the NGO Water First. In 2021, Ryan became a member of the Uplift Black Artist Collective and Salomon Community ambassador. Outside of work, you can find Ryan in the waves documenting the Canadian surf scene.
Amoy Marshall Green, Student Support Services, University of Guelph
Amoy has more than two decades of local and international experiences as a passionate career development professional with a demonstrated history of working in the postsecondary education and social services sector. Currently, she is a Career Advisor within the Experiential Learning Hub at the University of Guelph. As an alumna of the University of Guelph (MSc – Family Relations & Human Development, 2017), Amoy has firsthand experience as an international graduate student. As such, she is aware of the systems, procedures, and departments that support international students, domestic students, and alumni to achieve their academic and career goals. Importantly, Amoy has worked with international students, domestic students, and alumni in their job-search and employment process, offering support and referring clients to relevant institution and community services. Additionally, Amoy has developed and facilitated employment workshops, networking conferences, and information sessions with both staff and students. Apart from her career related experiences, Amoy has experience as a trained teacher and counsellor. Taken together, Amoy possesses skills in lecturing, training, career, and employment advising, work-study and job placement, counselling, mentoring, event management, award winning customer service, recruiting, interviewing, team building, strategic planning, research, and writing. Overall, her training and experiences have prepared her to help students bridge the gap between education, training, and employment. Amoy believes in helping to empower individuals to achieve their career goals and gains satisfaction from their growth and development. This is in line with one of her hobbies of planting seeds and nurturing them to maturity and fruit production.
How to Register
If you would like to register as a presenter, please contact CEPS Research Communications Officer Bethany Davidson-Eng (bdavieng@uoguelph.ca).  
The deadline to register for either oral or poster presentations is October 14, 2022.
Presenters must submit final slides by October 16, 2022.
Attendees can register up until October 14, 2022
If you have any questions or concerns, please email bdavieng@uoguelph.ca
We would like to thank the University of Guelph Graduate Students' Associate for funding this event.