What makes U of G so unique?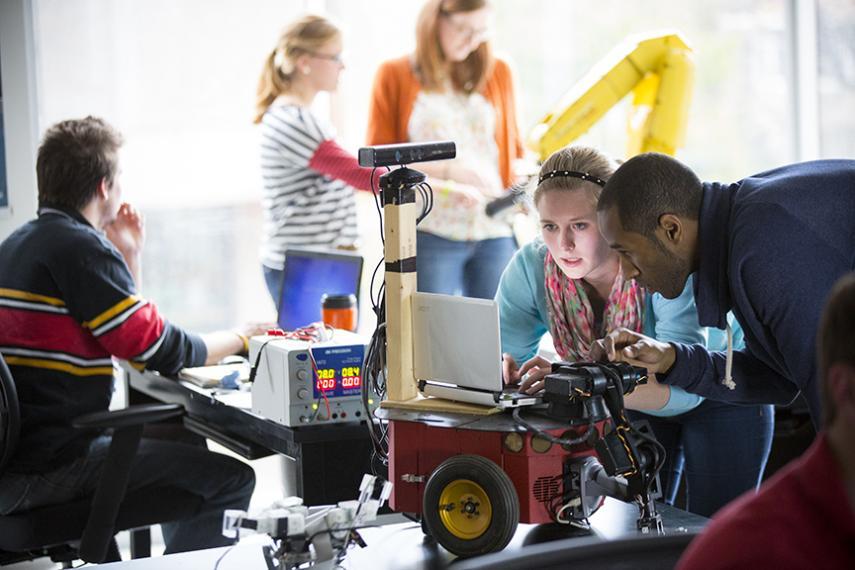 Students tell us their favourite thing(s) about U of G.
The University of Guelph ranks number two for student satisfaction in Canada. Many of our students are engaged in the campus community throughout their time here and become proud alumni that improve life around the world after graduation.
We spoke to several U of G students who are at varying stages of their degree at the University of Guelph. Some are finishing their second year, and several are due to graduate this spring. One commonality weaves its way through each of these students' opinions, whose majors range from engineering to computer science to physical sciences: they feel passionately about life at the University of Guelph and can point to a distinct "favourite thing." 
Several students felt the opportunities, both inside and outside the classroom, to develop their technical and soft skills were central to their U of G experience.
"The most interesting and best part about computer science at Guelph is the student club – that is SOCIS. It is the Society of Computing and Information Sciences," says Arnab Sagar, second year Computer Science student. "It has allowed me to attend so many workshops and learn technical skills, which has given me an opportunity to apply those skills."
"I've gotten to do a whole whack of things, such as organizing conferences and being a part of the Math and Stats Club exec, to welcoming these students and doing research," adds Jenny Lawson, who is graduating from her BSc in Mathematical Science this year. "All of these opportunities have been invaluable to me and have really helped me to grow as a person and complement my studies."
What makes so many of these opportunities possible and fulfilling is an engaged, active student body that support each other and are committed to improving life.
"It's incredibly supportive, welcoming, caring, and friendly," says Sooraj Modi, Computer Science student. "There's a place for everyone, no matter who you are."
Talha Tariq, Environmental Engineering student, agrees: "I've found everyone to be very friendly, very helpful – it's a collaborative atmosphere."
Beyond learning experiences and community, the students we chatted with spoke unanimously: The food at U of G is amazing.
"The food is absolutely phenomenal. Between Creelman Hall, the Bullring, the University Centre... there's options for everyone, and it's all delicious," says Sooraj.
"I often hear university students complaining about their campus food. I have to say, that's not the case here. Creelman Hall is one of the best food campus places in Canada," says Talha.
"Everything that you hear about the food being amazing at Guelph is absolutely true," adds Melanie Hudakoc, Physics student. "A lot of the food that they serve us is local and even grown on campus."
Nicole Washuck, Biomedical Toxicology student, points out that the City of Guelph and its vibrant, connected community are also central to the U of G experience.
"My favourite thing about the University in my four years being here has been the sense of community. Not only are you part of an institution, but you're part of a community of staff, students, faculty, and the greater Guelph community. Never have I been to a school that's integrated the actual city so well in the university experience, and that's really allowed me to build a home here at Guelph, not just a time studying."
You can watch Jenny, Melanie, Nicole, Sooraj and Talha's stories via our video series on YouTube.