Championing Women in Engineering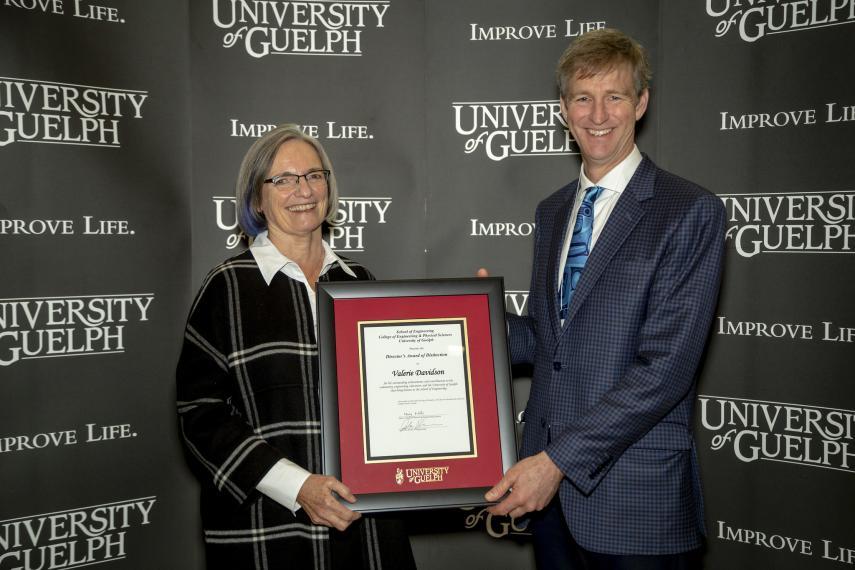 The theme for Canadian Women's History Month 2020 is #BecauseOfYou, and a Professor Emterita at the University of Guelph was featured in the campaign as a passionate advocate for young women pursuing careers in engineering. Engineering Prof. Valerie Davidson has long understood the power of bringing women together to support and challenge one another, evident in her role as the founding Chair of Ontario Network of Women in Engineering (ONWiE) from 2005 to 2011. The idea was simple – schools of engineering come together as a network and collectively share resources to encourage and support young girls and students to pursue an education in engineering. 
In October 2005, ONWiE launched its flagship outreach program Go ENG Girl/GÉNiales, les filles – an annual event for budding future engineers. Each school customizes their Go ENG Girl event, which is typically a one-day affair that draws young female and female-identifying students to campuses across the country to discover engineering under the mentorship of other women in STEM. This year's University of Guelph event took place virtually on October 17, 2020.
Q&A with Valerie Davidson, University Professor Emerita and ONWiE founder
Valerie Davidson, PhD, P.Eng.
University of Guelph Professor Emerita
What is your history with ONWiE? What are you most proud of after 15 years?
I was the founding Chair when we formed the ONWIE network in 2005. The first ONWiE event was Go ENG Girl (GEG) and it has run every year since October 2005.
I am proud that ONWiE has developed into such a strong collaborative network that remains committed to a common vision of increased participation of women in engineering in Ontario. There has been success in terms of the representation of women in undergraduate engineering programs.  ONWiE is recognized as a leader in STEM outreach due to the efforts of its members and the volunteers – students, alumna, staff and faculty – who ensure that each GEG event is unique and inspiring.
Tell us about your time at the University of Guelph.
I was a faculty member in the School of Engineering for 23 years. I taught engineering courses that are common to all of the programs as well as specialized courses in the biological engineering program.  My research focused on food systems and I was particularly interested in food safety.  My research team developed models to estimate how microbial pathogens enter a food system, what level remains in the food after processing and distribution and, most importantly, how likely is it that this level will cause illness.
What barriers do you feel still persist for women and girls in STEM, and what role can ONWiE play?
There is clear evidence that barriers influence girls perceptions and interest in STEM from an early age.  Even now – in 2020 - there are deep rooted and persistent stereotypes.  I still hear young women saying "I thought engineering was only for boys" or "girls aren't good at math".  We need to change the narrative about what is needed to succeed in engineering. 
ONWiE plays an important role in offering creative programs for girls aged 8 to 16 and emphasizing different aspects of engineering such as design and problem solving, robotics and computer coding. 
I think one of the most important ways that ONWiE dispels stereotypes is through the engineering students who supervise the hands-on activities and answer participants' questions about student life and engineering careers.
Creative Encounters with Science prepared Go ENG Girl material boxes that were mailed to participants prior to the virtual event on October 17, 2020.