Computational Sciences Student Pursues Research in AI Biases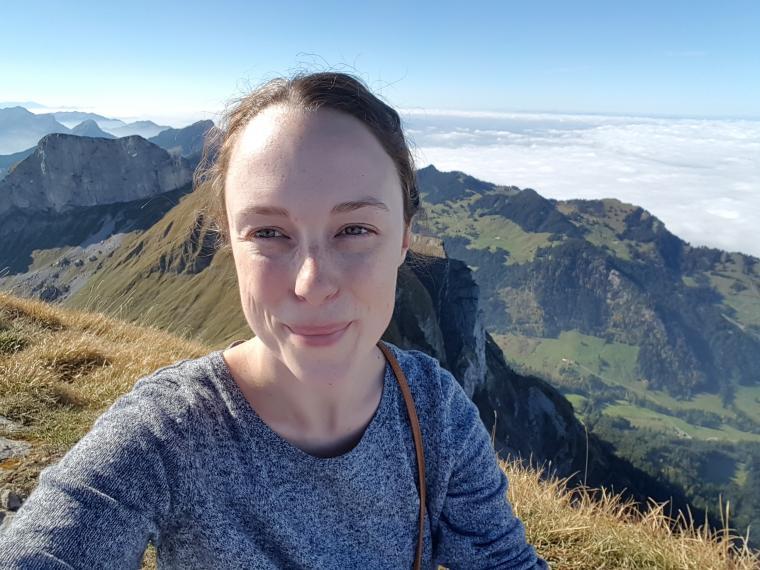 We chatted with Hillary Dawkins about her academic journey and becoming a postgrad affiliate of the Vector Institute.
Hillary Dawkins, third-year Computational Sciences PhD student, has had a long history with the University of Guelph. She grew up in the city, and her mother works in the McLaughlin Library. Dawkins has had admirable academic and research achievements that would make any parent proud, including being named a Vector Institute for Artificial Intelligence (Vector) postgraduate affiliate for 2021.
The Vector postgraduate affiliate program was established in 2018 and promotes engagement and collaboration among early career researchers in the AI community. The process to receive this affiliation is competitive, with just several dozen recipients selected from across Ontario per year; applicants are evaluated and selected based on the strength of their past research contributions and the alignment of their interests with Vector's vision, mission, and research.
We talked to Dawkins about her studies, her research, and her Vector affiliation.
What made you choose the University of Guelph?
I've always spent time on campus with my mother and through school programs. When I started first year, I was undecided between physics and genetics as my major, but I knew U of G would be the right choice for either. 
How did you get from your early days as an undergraduate student to where you are now?
After completing my undergraduate degree in physics at U of G, I chose to do an MSc degree at the University of Waterloo (UW) in quantum information, which has close ties to concepts I learned in undergrad.
The Institute for Quantum Computing at UW is inter-departmental, so I was exposed to more research areas. During that time, I was also attending data science workshops and becoming more interested in computer science, artificial intelligence (AI) and data science for social good applications. I've also always had a secondary interest in physics education research which seemed to fit with these topics.
After my MSc, I took a two-year break from studies to work on short-term research projects/ fellowships. When I decided to do a PhD, I was attracted to an interdisciplinary program that would allow me to hone computer science skills in a more formal setting, and the computational sciences program at U of G allowed me to do that, so it made sense to come back to where I had begun my postsecondary studies.
Tell us about your research interests and your thesis.
My thesis research is on recognizing and mitigating gender bias in natural language processing. AI models can amplify bias that exists in real-world data. For instance, if the majority of Wikipedia pages for scientists are male, the model will learn that male pronouns and names are more related to the word "scientist" than female pronouns and names.
Later, when a search engine uses this model and someone searches for famous scientists, pages containing male pronouns are more likely to be returned (even if all else were equal). In this way, the model helps reinforce a stereotype. When designing models with mitigation in mind, we attempt to correct for this amplification. 
You have recently been recognized for a pretty prestigious achievement: Being named a Vector Institute postgraduate affiliate. Tell us about what this means for you.
I am thrilled to be named a postgraduate affiliate with VI; it reinforces the importance of my research and my efforts in my graduate studies to date. Affiliation with the Vector Institute grants access to research talks, reading groups, and collaborations outside my immediate network. I've already (virtually) attended some talks I wouldn't have known about otherwise, and I'm planning on joining the Fairness in Natural Language Processing reading group.
I'm also interested in learning about practical challenges in adopting research from Vector's industry partners. For example, if we develop a new bias mitigation technique in our research, how can we disseminate that result in a way that will facilitate widespread adoption?
How has your network and community at the University contributed to your academic journey?
When I was an undergraduate student, there were several professors in the physics department that always seemed to be looking out for me. They pushed me to apply for summer research jobs and allowed me to participate in research part-time throughout the school year.
When it came to applying to grad school, I had a lot of help navigating the application process and connecting with potential advisors at Waterloo. I remember the graduate program assistant at the time drove me to Waterloo numerous times to meet with faculty. Because I'm a first-generation university student, I'm not sure I would have known about these opportunities or known how to pursue them without the support of the department. 
What's next for you? What are your plans after graduation?
I'd like to continue my research in natural language processing and pursue a postdoctoral position.  
Do you have advice for early career researchers and graduate students?
In general, I think it's good to attend as many interdisciplinary research talks as possible and keep an open mind. I still feel that my physics and math background have helped me with every project I've been involved with.