CEPS Graduate Student Research Day 2022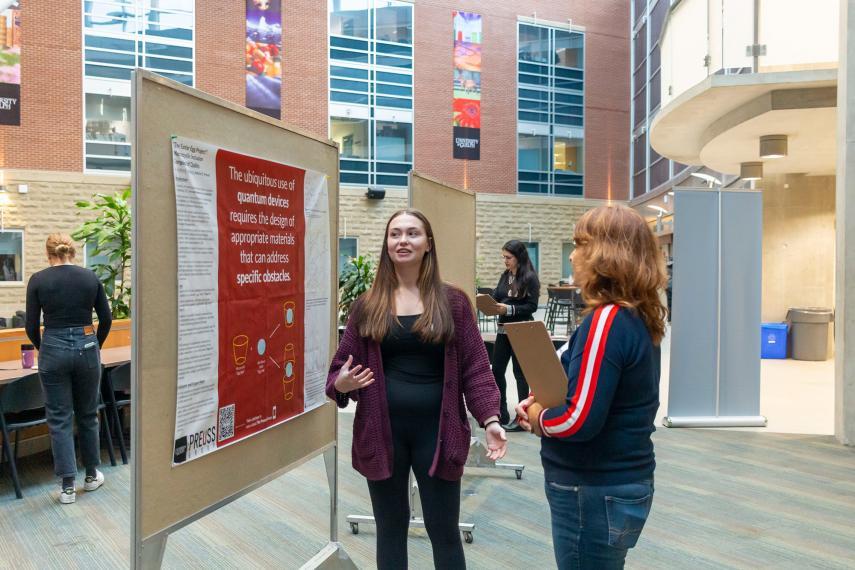 The CEPS community gathered on campus to celebrate graduate student research through poster and oral presentations.
Distilling months or years of research into three minutes and one slide or one visual poster might feel like an impossible task, but College of Engineering and Physical Sciences graduate students tackled the challenge for the College's annual Graduate Student Research Day on October 19, 2022.
The event brought together seven poster presenters in the sweeping Summerlee Science Complex atrium to showcase their work visually, connecting with judges and the University of Guelph community to answer questions.
Following poster presentations, 12 students presented orally in a three-minute thesis-style competition, pitching their research in just three minutes with one slide. The name of the game was to be clear, concise, and communicate complex information in a way that their audiences could easily understand.
The morning kicked off with opening remarks from mathematics and statistics professor and CEPS Associate Dean of Research and Graduate Studies, Dr. Monica Cojocaru.
When the competition portion of the day concluded, participants and attendees listened to an expert panel on Life After Graduate School, with the aim of showing grad students the unique and diverse career paths they might take. The panel featured Dr. Liliana Caballero, Assistant Professor, Department of Physics, University of Guelph; Mallory Jutzi, Air Quality Analyst, Ministry of Environment, Conservation and Parks; Ryan Osman, Water Resources Specialist and Field Photographer, Water First; and Amoy Marshall Green, Student Support Services, University of Guelph.
Announcing the Winners
CEPS is pleased to announce that MSc student Candice Robillard won first place for their poster, The Easter Egg Product: Macrocyclic Inclusion Complex of Qubits. Robillard is a Chemistry student working with Dr. Kathryn Preuss.
PhD Candidate Aneela Hayder won second place for their poster titled Tailored Design of 3D Hybrid Carbon Systems using Catalytic Hydrothermal Carbonization to Obtain Value Added Bioproducts. Hayder is an Engineering student working with Dr. Animesh Dutta.
In oral competitions, PhD Candidate Cody Kupferschmidt won first place for The Long and Winding Erode: Predicting River Erosion Using Machine Learning. Kupferschmidt is a Water Resource Engineering student working with Dr. Andrew Binns.
Second place went to PhD Candidate Peyman Tahghighi for their oral presentation, Quality Control Automation for Canine Radiography. Tahghighi is a Biomedical Engineering student working with Dr. Eranga Ukwatta.
The judges also gave an honorable mention to two presenters for their oral presentations:
• Engineering student Regan Sheppard, Dr. Scott Brandon, for their oral presentation Wearable Physiotherapy – Biofeedback-Based Exercise Training for Rehabilitation from Home.
• Engineering student Rathna Sundaramurthy, Dr. Manickavasagan Annamalai, for their oral presentation Detection of Deoxynivalenol (DON) in Fusarium Infected Corn Grains Using Near Infrared Hyperspectral Imaging.
Congratulations again to all the student presenters and thank you to all the other participants!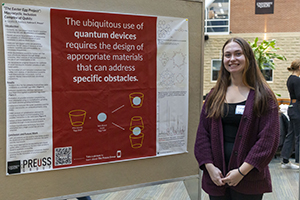 MSc student Candice Robillard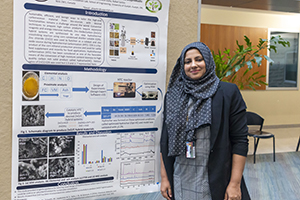 PhD Candidate Aneela Hayder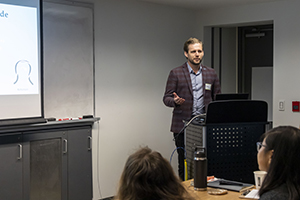 PhD Candidate Cody Kupferschmidt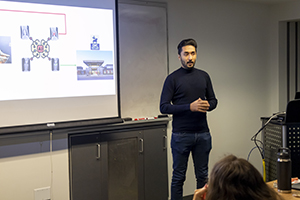 PhD Candidate Peyman Tahghighi