John Runciman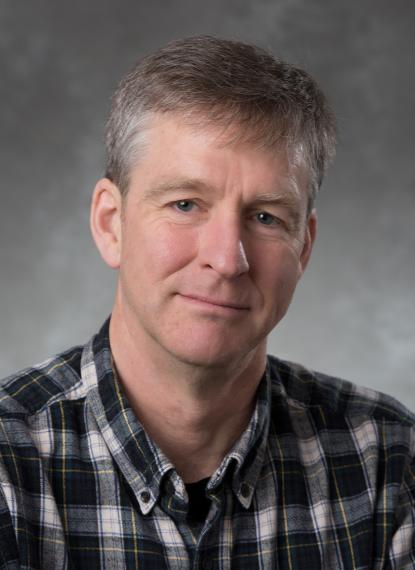 Associate Professor, Director (School of Engineering)
Phone number:
(519) 824-4120 ext. 53023
Find Related People by Keyword
Education and Employment Background
Dr. John Runciman received his PhD from the University of Strathclyde, Scotland, in 1993. He worked for five years in the international medical industry, holding positions in Sweden, Canada, and the United States, specializing in orthopedic (trauma and spine) implant and tool design. Runciman joined the University of Guelph in 1998 where he is now a full Professor and Director of the School of Engineering.
---
Research Themes 
Runciman's research focuses on orthopedic implant and tool design, cardiovascular biomechanics, water skiing biomechanics, and canoe paddle mechanics. His biomedical research has been ongoing from more than twenty years, with research spanning halo pin mechanics and MRI compatibility; bone plate modelling and biomechanics, joint reconstruction, soft tissue testing, hard tissue biomechanics and cardiovascular research.  He has also studied assistive devices and equipment design. His current research has shifted towards activity biomechanics, where he aims to improve the accessibility of the sports for all people and in particular our aging population through a better understanding and optimization of the science behind the equipment. Key research themes include:
Canoe paddle mechanics. Runciman seeks to improve paddling efficiency and accessibility by critically and scientifically examining the design and function of paddles. Improved canoe efficiency through better paddles will allow individuals to participate in the sport for greater periods of time and later into life, thereby increasing their overall activity levels and fitness.
Water Skiing. With our aging population, there are many individuals who have been active in the sport of water skiing for years and in some cases decades. With increasing age typically comes increased body mass, decreased overall fitness levels and decreased free time available for participating in the sport. All of these characteristics tend to exacerbate the physical demands the sport places on the participant. Working in collaboration with Maharajah Water Skis, Runciman initiated water ski research looking at the performance characteristics of the Maherajah Fastback slalom ski and comparing it to more typical slalom skis on the market. His recent work has been in collaboration with Connelly Skis and Lighthouse Lake Water Sports Centre near Bancroft. This research examines the performance characteristics of the skis comprising the Connelly slalom ski line.
Equine cardiovascular research. Approximately 80% of racehorses can be expected to develop Exercise-Induced Pulmonary Haemorrhage (EIPH) during their career. The management and treatment of EIPH have a substantial economic impact to the equine industry, with the cost of treating EIPH estimated to exceed $100 million annually in the United States alone. Runciman examined the relationship between pulmonary vessel loading and calcification in racehorses as well as pulmonary artery relative stiffness and its impact on blood flow characteristics.        
Highlights 
Grant Selection Committee Member, Natural Sciences and Engineering Research Council of Canada (NSERC) Collaborative Health Research Projects, 2019
Chair, Bioengineering Syllabus Review Committee, Engineers Canada, 2019
NSERC, Engage Grant, 2015
Design Award for Single-lever bicycle brake, Canadian Press, 2008
University of Guelph Distinguished Professor Award, 2007
Media Coverage
School of Engineering, University of Guelph
Water Skiing Research
Equine Cardiovascular Research