Volunteer as a Human Rights Fact Finder and Resource Person!
Volunteer as a Human Rights Fact Finder and Resource Person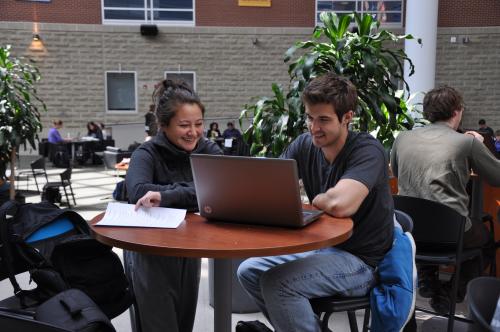 WHO CAN APPLY?  All members of the University community (students, faculty, and staff) may apply to be a human rights volunteer.

HUMAN RIGHTS FACT FINDERS & RESOURCE PERSONS are selected by representatives from the Human Rights Advisory Group (HRAG); the Office of Diversity and Human Rights; and senior administration.

HUMAN RIGHTS FACT FINDERS assist in determining and reporting the facts in formal complaints filed under: Human Rights Policy and Procedures for the Resolution of Human Rights Discrimination and Harassment Concerns, Disputes and Complaints (Policy and Procedures) 

HUMAN RIGHTS RESOURCE PERSONS provide information and support to persons engaged with or considering a formal complaint filed under the Policy and Procedures.

THE OFFICE OF DIVERSITY and HUMAN RIGHTS (DHR) is responsible for assigning volunteers.
TIME COMMITMENT: volunteers are generally expected to be available during regular daytime business hours, as needed, and have some scheduling flexibility.  DHR will give reasonable consideration to work and academic obligations of all volunteers when determining assignments.  
WHY APPLY?
Human rights volunteers receive
•    Human rights and equity training
•    Training in fact-finding procedures
•    An opportunity to assist in the resolution of human rights complaints within the community.
DUTIES AND RESPONSIBILITIES
Human Rights Fact Finder
•    Assists in the planning and implementation of fact-findings (i.e. interviewing complainants, respondents and witnesses)
•    Assists in the preparation of fact-finding reports.

Human Rights Resource Person
•    Provides information, peer support, and advice to those engaged in procedures under the University's human rights policy
•    Provides assistance in the preparation of a formal complaint.

SKILL SETS
•    Knowledge of/interest in human rights
•    Dispute-resolution 
•    Problem-solving and analytical
•    Empathetic active listening 
•    Oral and written communication skills
•    Collaboration and teamwork
All successful candidates must be available for mandatory training to be held on campus
April 25-26, 2016 8:30 am-4:30 pm 
Volunteers remain active from May 2016-May 2017 and have the option of remaining active following the conclusion of this one year term
APPLICATION Instructions
Please indicate if you wish to be considered for one or both volunteer roles. Please note that successful applicants under consideration for both roles will be invited to two interviews.
Please provide the following information and answers to the questions listed in paragraph format:
Name:
Are You Faculty/Staff/Student?
Department/Faculty/Program:
Phone (daytime):
Phone: (evening):
E-Mail:
Please answer the following questions (maximum of two pages).
1. Please describe your experience with human rights issues.
2. Please describe your communication skills and a time when you've had to use them for solving a problem.
3. What experience(s) do you have with dispute resolution?
4. What knowledge do you have of human rights principles and the University of Guelph's human rights policy?
5. Describe a time when you have worked effectively with others.
6. Please list one reference with an e-mail address and phone number.
Please submit your application and a resumé by March 18, 2016 to dhrinfo@uoguelph.ca (PDF or text documents please)
Please indicate 'Volunteer Application' in your email subject line.