Keith Warriner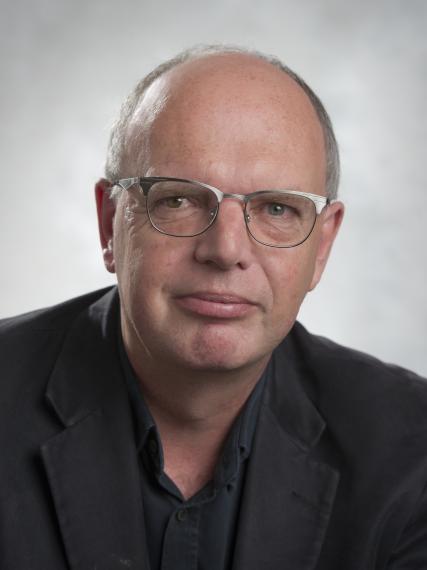 Phone number:
519 824 4120 extension 56072
Office:
Food Science Building - Room 126
Find Related People by Keyword
Professor
Keith Warriner returned to university to study food science after training and working as a chef in the United Kingdom. After completing his Ph.D., he worked for the Department of Medicine at the University of Manchester studying biosensors, and at the University of Nottingham as a Research Fellow in food microbiology working with fresh produce. He joined the Department of Food Science at the University of Guelph in 2002 and was promoted to full professor in 2011.
Academic History
B.Sc. in food science, University of Nottingham (1989)
Ph.D. in microbial physiology, University College of Wales (1993)
Affiliations and Partnerships
Former president of Ontario Food Protection Association
Member of the International Association of Food Protection
Associate Editor of the Canadian Journal of Microbiology
Editorial board for Applied & Environmental Microbiology and International Journal of Food Microbiology
Research Impact
Keith's research revolves around food safety and food microbiology, allowing him to work closely with industry and apply his research findings in a practical way. A recent example of applied research conducted by Keith and his team involved developing and implementing decontamination solutions for candy apples, whose market had sank after a listeria outbreak in 2014. The methods developed as a result of Keith's research are currently used in the industry and have contributed to improvements in the candy apple retail market. His work has also contributed to the development and implementation of cooking instructions for poultry products in Ontario, and to the creation of decontamination methods for dry ingredients such as flour and chia seeds.
Current Research Projects
How do pathogens produced in the laboratory relate to those found outside of it?
Experiments performed in the lab utilize pathogen strains that have been nurtured and, as a result, have not seen much stress. The same is not necessarily true for pathogens that grow in the real world. Keith's research in this area focuses on the similarities and differences between pathogens in these two environments, specifically whether stress levels impact their response to decontamination in items such as fresh produce. Keith's work also looks at dormancy states in pathogens, and how that translates to virulence (ability to cause disease). Ultimately, Keith looks to apply this research to increase our understanding of how the risks we see in the laboratory translate to the real risks we see in the natural environment. The research has been funded through NSERC, OMAFRA, Mitacs and the Center for Fresh Produce Safety.
What is the relationship between antibiotic use in animal production and consumer risk for acquiring infections due to resistance?
A recent topic of concern in agriculture is the use of antibiotics in animal production. A growing trend is the desire to end antibiotic use, as their effects on end consumers are uncertain. The reality, however, is that this uncertainty also extends to the effects of removing said antibiotics from animal production. Keith's research in this area looks at approaches that increase the efficacy of antibiotics and thus extend their utility to protect against pathogens. Funding for research in this area was obtained through the OMAFRA:University of Guelph partnership program. 
What is the microbiological safety of fresh produce from farm to fork?
Fresh produce (for example, bagged lettuce) is responsible for the highest number of foodborne outbreaks in North America. The open nature of growing produce and lack of a pathogen kill step between the field and consumer all contribute to making fresh produce a high-risk food. Keith's work investigates how pathogens interact with plants and survive in the environment. His group is also evaluating post-harvest intervention methods that reduce pathogen carriage on produce that encompasses making the wash process more reliable through water recycling. The work is funded through NSERC, OMAFRA, Mitacs, IRAP and the Center for Fresh Produce Safety.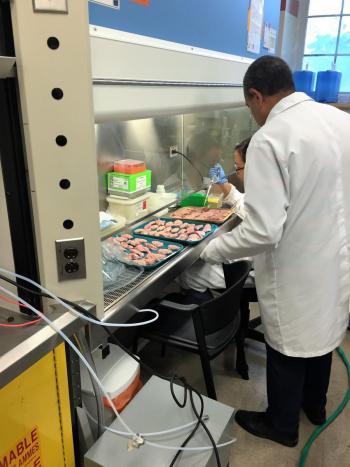 Photo: Fan Wu and Dr Ayman Tawadros inoculating chicken wings with spoilage yeast before applying a novel ozone-based treatment to extend product shelf life.
Graduate Student Information
Graduate students are the foundation of Keith's research projects. His team also consists of undergraduate volunteers, many of whom go on to become graduate students themselves. While he provides access to equipment and funding to perform the research, he expects his students to be in charge of their own projects. To this end, he looks for students who are motivated and self-reliant to join his research team.
Past graduate students have worked on projects involving decontamination methods for various food items, epidemiology of emerging pathogens such as Clostridium difficile, interventions for pathogens in fresh produce, and analysis of pathogen interaction with plants.
Keith's students have gone on to positions in academics, the private sector (i.e. Maple Leaf Foods) and in the public sector, including CFA inspection.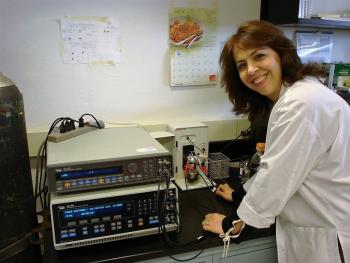 Photo: Azadeh Namvar, who obtained a PhD for her work in developing a mycotoxin sensor, using an impedance analyzer to test the selectivity of developed imprinted polymers.
Featured Publications
J. Bannon, M. Melbari, C. Jordao, C. G. Leon-Velarde and K Warriner (2016). Incidence of Top 6 shiga toxigenic Escherichia coli within two Ontario beef processing facilities: Challenges in screening and confirmation testing. AIMS Microbiology 2(3): 278-291. Available at http://www.aimspress.com/article/10.3934/microbiol.2016.3.278.
Hoa, H., Zhou, T., Koutchma, T., Wu, F., & Warriner, K. (2016). High hydrostatic pressure assisted degradation of patulin in fruit and vegetable juice blends. Food Control, 62, 237-242.
Xu, C., Salsali, H., Weese, S., & Warriner, K. (2016). Inactivation of Clostridium difficile in sewage sludge by anaerobic thermophilic digestion. Canadian Journal of Microbiology, 62, 16-23.
Hawken, P., Weese, S., Friendship, R., & Warriner, K. (2013). Longitudinal study of Clostridium difficile and Methicillin-resistant Staphylococcus aureus associated with pigs from weaning through to the end of processing. Journal of Food Protection. 76(4): 624-630.
Shi, X., Namvar, A. `., Kostrzynka, M., Dunfield, K., & Warriner, K. (2009). Microbial Population Profiles of the Microflora Associated with Pre and Post-harvest tomatoes contaminated with Salmonella Typhonium or Salmonella Montevideo. Journal of Applied Microbiology, 107, 329-338.
For a full list of Keith's publications, please visit his Google Scholar page.
Related Links
Twitter: http://twitter.com/kwarrine
Linkedin: http//linkedin.com/in/keith-warriner-b0730630
Youtube channel: https://www.youtube.com/channel/UC-2DmngnASGtVVkJHLRchqg?view_as=subscriber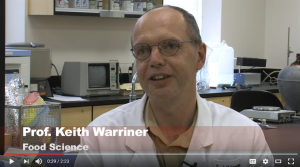 Meat the Profs video https://www.youtube.com/watch?v=FHDfn62PpG4&list=PLT6Plk1dt5KnuDb9-NdE3Gclo4wWaTf5s&t=0s&index=7