Yoshinori Mine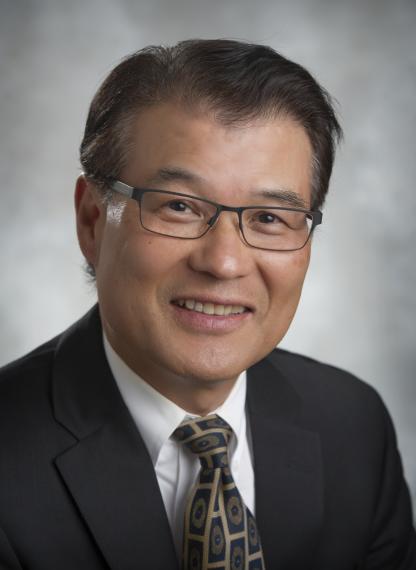 Phone number:
519 824 4120 extension 52901
Office:
Food Science Building, Room 226
Find Related People by Keyword
Professor
Dr. Mine received a M.Sc degree in 1987 from Faculty of Agricultural Science (Food Science), Shinshu University, Japan and a Ph.D. degree in Biochemistry from Tokyo University of Agric and Tech., Tokyo, Japan in 1993. Mine joined the University of Guelph in 1996 as a faculty member at Department of Food Science. Currently, and since 2005, Mine is a full professor. Dr. Mine is renowned Egg Material Scientist at University of Guelph, ON. Dr. Mine's primary research interest is molecular approaches to the study of structure-function relationships of egg and other food derived bioactive proteins/peptides and egg allergy, to enhance human intestinal health. Mine's group is exploring novel approaches to cure chronic oxidative stress and inflammation using dietary peptides and amino acids as well as understanding mechanism of actions of food factors-gene interactions. Mine is also the department coop program faculty advisor.
Academic History
B.Sc. in Agricultural Science, Shinshu University, Japan (1983)
M.Sc. in Food Science, Shinshu University, Japan (1987)
Ph.D. in Biochemistry, Tokyo Univ. of Agric. and Tech., Japan (1993)
Affiliations and Partnerships
Associate Editor, J. Agric. Food Chem. (USA)
Editorial Board Member:
Int. J. Food Sci. and Tech. (UK)            
J. Functional Foods (USA)                                    
Food Bioscience (UK)
Awards and Honours
American Egg Board Research Award, Poultry Science Association, USA, 2005
Premier's Research Excellence Award, Ontario Ministry of Energy, Science and Technology Canada, 2000
Research Impact
The Mine lab in the Department of Food Science has a collection of varied research focuses. One of the main research topics is gut health and immunity, and identifying bioactive food factors that promote gut health. Relatedly, the Mine lab also examines the enhancement of the mucosal innate immune system, which has an integral role in protecting the epithelial surface of the GI tract from luminal pathogens. By identifying food-derived peptides, mainly from egg or soy proteins, with immune modulatory properties and administering these peptides in the body, it is hypothesized that the mucosal innate immune system can be strengthened. The lab also focuses on the anti-oxidative and anti-inflammatory activity of various dietary-derived peptides. It is known that gut inflammatory damage and oxidative stress are large contributing factors in the pathogenesis of various human disorders including cancer, cardiovascular disease, diabetes, inflammatory conditions, and neurological processes. Thus, identifying bioactive dietary peptides with anti-oxidative or anti-inflammatory properties provides promising applications in the reduction of local inflammation in the gut, as well as reducing the incidence of disorders such as obese, cancer and diabetes.  Understanding the intestinal absorption and bioavailability of dietary peptides is crucial in being able to conclude that a peptide is indeed bioactive. The Mine lab investigates the mechanisms of intestinal absorption, with considerable focus on the PepT1 peptide transporter. Our work also focuses on the allosteric activation of the calcium-sensing receptor (CaSR), which is involved in the anti-inflammatory effects of dietary dipeptides. The lab uses molecular and biochemical approaches to elucidate the intestinal transport mechanisms of peptides. Another main research focus is the allergology of egg allergens such as ovomucoid and ovalbumin. We examine the modulation of Th1/Th2-associated cytokines and T-regulatory cells, the mechanism of antigen transportation across the human intestinal epithelium, and how peptides or probiotics may modulate the allergic response. The Mine lab uses a variety of research approaches including animal trials (mouse and swine), cell culture experiments such as cell transport and inflammatory model experiments, ELISA, Western blot, HPLC, qRT-PCR , allergy animal model, mucosal immunity, flow cytometer, cell signaling, bioinformatics, OMICS approaches.
Current Research
1. Role of the extracellular calcium-sensing receptor in chronic inflammation: The extracellular calcium-sensing receptor (CaSR) is the first identified G protein-coupled receptor. Previously, g-glutamyl cysteine (g-EC) and g-glutamyl valine (g-EV) were identified as novel positive allosteric modulator of CaSR through the allosteric binding. We also demonstrated that activation of CaSR by g-EC or g-EV could suppress TNF-α-induced inflammatory responses in intestinal epithelial cells (IECs), and reduced intestinal inflammation in a mouse model of colitis. The CaSR-mediated anti-inflammatory effects of the peptides were abrogated in β-arrestin2 knockout IECs, and involvement of β-arrestin2 was found to inhibit the TNF-α-dependent pro-inflammatory signaling cascade via cross-talk with the TNF-α receptor (TNFR). Further detailed analysis using gene ontology (GO) analysis clarified the role of CaSR plays as a therapeutic target for chronic inflammation. Our research strongly suggests the CaSR must play a central role in many complex disease conditions such as hypertension, cancer, diabetes, atherosclerosis and kidney disorders.
2. Impact of soy derived di-/tri peptides in chronic inflammation. We recently demonstrated that a soy-derived hydrolysate, enriched in di- and tripeptides, exerted anti-inflammatory activity in vivo in a porcine model of dextran sodium sulfate (DSS)-induced inflammation. The orally administered soy peptides prevented DSS-induced changes in gut permeability and histology, and reduced myeloperoxidase (MPO) activity and the expression of inflammatory cytokines tumor necrosis factor (TNF)-α, interleukin (IL)-6, interferon (IFN)-γ, IL-1β, and IL-17A in the colon. VPY was identified as a novel PepT1 substrate that can inhibit the production of pro-inflammatory mediators in vitro in intestinal epithelial and immune cells, and reduce the severity of colitis in mice by down-regulating the expression of pro-inflammatory cytokines in the colon, suggesting that VPY may be promising for the treatment of IBD.
3. Non-nutritional biological activities of amino acids to improve chronic gut inflammation. We have discovered that L-tryptophan and L-cysteine exhibit therapeutic functions in a porcine model of dextran sodium sulfate (DSS)-induced colitis. The L-cysteine and L-tryptophan were both examined for ability to reduce colitis symptoms and modulate local gene expression and we found that both amino acids reduced inflammation and enhanced the rate of recovery of DSS-induced colitis in pigs. Our outcomes offer a novel therapeutic approach for the treatment of chronic inflammatory disorders via dietary amino acid supplements.
4. Peptide-based immunotherapy of egg allergy. Peptide-based immunotherapy (PIT) represents an attractive approach for targeted interventions in immunological disorders, but has not been widely explored in the context of food allergy. We have successfully induced tolerance in egg allergic mouse via PIT. The mechanistic pathways entailing pivotal molecules TGF-b and FOXp3 were highlighted as promising trails for the understanding of immunotherapeutic approaches for food allergy.
Graduate Student Information
Mine's team consists of diversity of various background of food science, bio-medical science, biochemistry, and nutrition. He expects his students to be highly motivated and interested in food bioactive factors and gut health. He is seeking students with strong team player and independent mature level master and Ph.D. students in charge of their own projects. To this end, he looks for students who are motivated and self-reliant to join his research team. Mine's Ph.D. students have been acquired academic position worldwide or functional food industry.  Mine maintains laboratory with senior staff and regular lab meeting with grad students. Mostly, grad students conduct their thesis research project under supervision of senior staff and myself. The students are required self-learning and outstanding communication skills as a team member. Mine's past students worked on projects, molecular allergology, bioactive peptides and amino acids to prevent chronic inflammation using various animal models and OMICS. Mine has a hands-on-training style how to learn basic lab skills, literature review, experimental design, critical data analysis, writing scientific report and manuscript preparation. Grad students also have an opportunity to spend short term at international collaborative laboratories in France, Canada, Japan and China.
Featured Publications
Fukuda T, Majumder K, Zhang H, Turner PV, Matsui T, Mine Y. (2016). Adenine inhibits TNF-α signaling in intestinal epithelial cells and reduces mucosal inflammation in a dextran sodium sulfate-induced colitis mouse model. Journal of Agricultural and Food Chemistry. 64(21): 4227-4234.
Zhang, H. and Kovacs-Nolan, J. and Kodera, T. and Eto, Y. and Mine, Y. (2015). γ-Glutamyl cysteine and γ-glutamyl valine inhibit TNF-α signaling in intestinal epithelial cells and reduce inflammation in a mouse model of colitis via allosteric activation of the calcium-sensing receptor. Biochimica et Biophysica Acta (BBA)-Molecular Basis of Disease. 1852(5): 792-804.
Mine, Y. and Young, D. and Yang, C. (2015). Antioxidative stress effect of phosphoserine dimers is mediated via activation of the Nrf2 signaling pathway. Molecular Nutrition & Food Research. 59(2): 303-314.
Zhang, H. and Hu, C.- A and Kovacs-Nolan, J. and Mine, Y. (2015). Bioactive dietary peptides and amino acids in inflammatory bowel disease. Amino Acids. 47: 2127-2141.
Rupa, P. and Nakamura, S. and Katayama, S. and Mine, Y. (2014). Effects of ovalbumin glycoconjugates on alleviation of orally induced egg allergy in mice via dendritic-cell maturation and T-cell activation. Molecular Nutrition & Food Research. 58(2): 405-417.
For a full list of Mine's publications, visit his Google Scholar page
Related Links
http://www.yminelab.com/ymine.html
http://pubs.acs.org/journal/jafcau