Career Workshop: Becoming the Batman of Public Speaking- NEW DATE/TIME
Location
On the north end of campus in Macdonald Hall, Room 149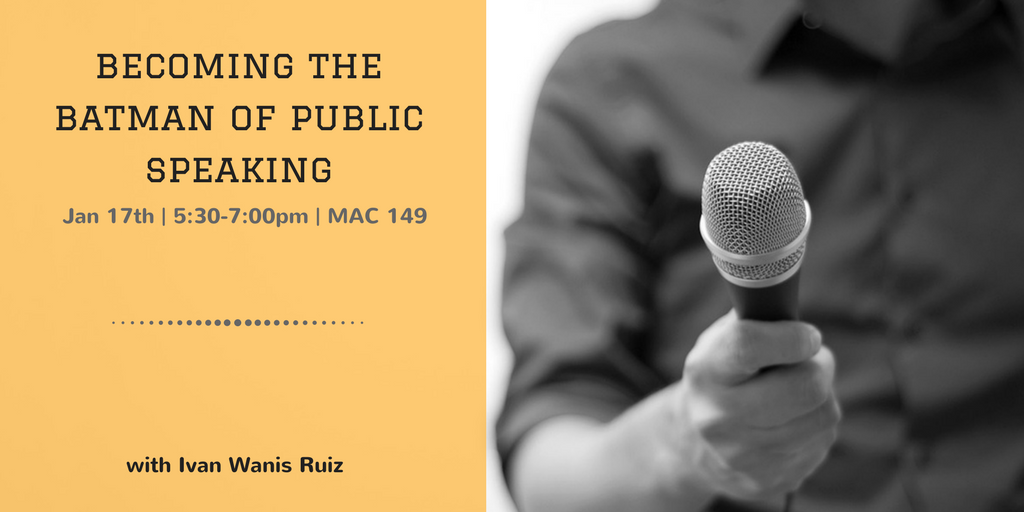 Details
What do a neurologist, an RCMP interrogator and a professional wrestler have in common? Each of them is a master in communication and how the brain works and each of them contributed to the ideas of this course.
Be ready to challenge everything you think about what good communication is in this fast-moving and highly interactive course. There is only one way to learn, by doing! Everyone who participates in the course will have an opportunity to practice and apply each strategy during the course.
By the end of this workshop you will be able to:
Apply a tool belt of effective communication techniques
Create dramatic visuals to maximize retention
Communicate complex ideas simply
Utilize strategies to effectively take your case presentations to the next level
A minimum of 6 students is required in order to run the workshop. Students will be notified via email if the workshop is cancelled due to low registration numbers. If you have registered and are no longer able to attend, please cancel 48 hours in advance via Recruit Guelph.
Please note: This workshop is for BCOMM students only.
To register for this workshop, visit the RecruitGuelph website (you will be prompted to access your Recruit Guelph account using your central login ID).
About the Business Career Development Centre
The Business Career Development Centre offers tailored career assistance to business students at the University of Guelph. It provides access to workshops, events and services including mentoring and networking opportunities, one-on-one career coaching, and assistance building your professional online presence. For more information, visit the Business Career Development Centre web page.
Share this page
Find related events by keyword