Career Workshop: Excel Workshop with The Marquee Group
Location
On the north end of campus in Macdonald Hall, Room 232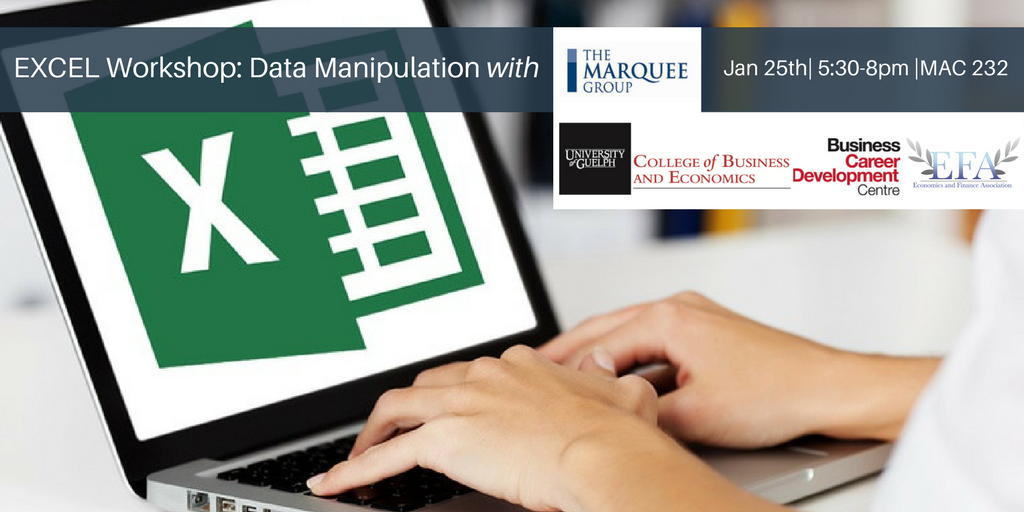 Details
Lacking good technicals skills on your resume? This is what employers look for!!
Every business professional needs strong technical Excel skills to thrive in a corporate environment. Join the Business Career Development Centre and The Economics and Finance Association (EFA) to build your skills set at this upcoming workshop learning data manipulation on Microsoft Excel with The Marquee Group. This course is dedicated to various intermediate and advanced Excel tools to transform participants into Excel "Power Users".
The Marquee Group is the only dedicated financial modeling firm in Canada. For over a decade, their business has delivered what has become the industry standard in financial modeling, training, consulting and accreditation.
For more information on The Marquee Group, visit their website here.
Please note: This workshop is for BCOMM students only. Registration fee is $25.00. Tickets are now available via the workshop event page here.
**The deadline to register for this workshop is Monday, January 22nd as packages will need to be made up in advance for those attending
 A minimum of 6 students is required in order to run the workshop. Students will be notified via email if the workshop is cancelled due to low registration numbers.
About the Business Career Development Centre
The Business Career Development Centre offers tailored career assistance to business students at the University of Guelph. It provides access to workshops, events and services including mentoring and networking opportunities, one-on-one career coaching, and assistance building your professional online presence. For more information, visit the Business Career Development Centre web page.
Share this page
Find related events by keyword