Career Webinar: I'm Graduating…now what? -For Commerce Students
Location
On the north end of campus in Macdonald Hall, Room 107 or remote access on own device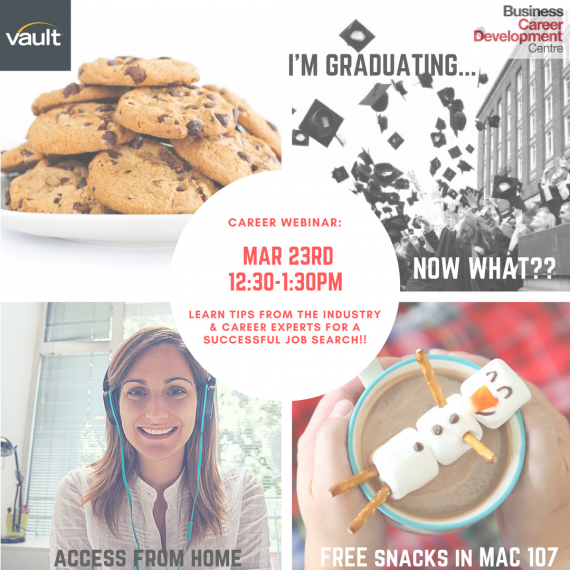 Details
Are you graduating and need help with getting started with a job search? If so, then you should attend this online live presentation provided by Vault. This webinar is a exclusive session for all University of Guelph College of Business & Economics students   Learn tips and strategies from the industry and career experts at The Vault.
**FREE snacks will be available!
Looking for verified employer data? Struggling to discern what it's really like to work at an organization? Or are you trying to stay informed on the global job market? Vault has over 200 guidebooks to aid with industry research and interview prep.
As a comprehensive career resource, Vault enables you to research employers and industries, gain career advice, and apply to jobs and internships. Let Vault help you land your dream job. 
Register via RecruitGuelph website to register to join in MAC 107 or use the Vault Link  for steps on how to access the Webinar through your own device!
Please Note: This webinar is held for BCOMM students only!!
About the Business Career Development Centre
The Business Career Development Centre offers tailored career assistance to business students at the University of Guelph. It provides access to workshops, events and services including mentoring and networking opportunities, one-on-one career coaching, and assistance building your professional online presence. For more information, visit the Business Career Development Centre web page.
Share this page
Find related events by keyword