Career Workshop: Job Search Boot Camp-For Commerce Students
Location
On the north end of campus in Macdonald Hall, Room 107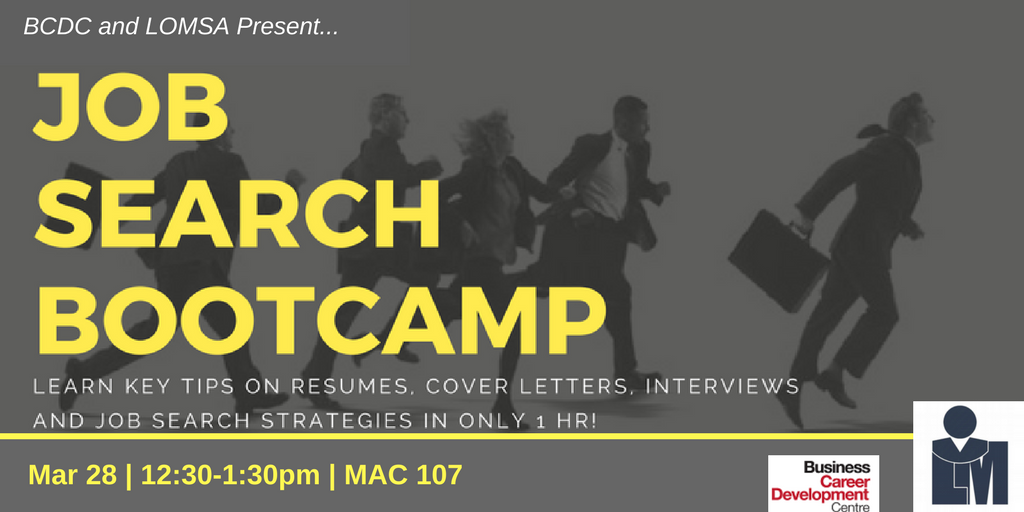 Details
Are you still seeking a summer or full-time opportunity?  It's not too late to make sure you are job search ready! 
Get a quick 20-minute overview of Resumes and Cover Letters, Interviews and Job Search Strategies over one hour. Brought to you by BCDC and LOMSA.
**THE FIRST 20 STUDENTS TO REGISTER FOR THIS WORKSHOP WILL RECEIVE FREE BUSINESS CARD HOLDERS!!
**A minimum of 6 students is required in order to run these workshops. Students will be notified via email if a workshop is cancelled due to low registration numbers.
Register via RecruitGuelph website to attend this workshop!
Please Note: These workshops are held for BCOMM students only!!
About the Business Career Development Centre
The Business Career Development Centre offers tailored career assistance to business students at the University of Guelph. It provides access to workshops, events and services including mentoring and networking opportunities, one-on-one career coaching, and assistance building your professional online presence. For more information, visit the Business Career Development Centre web page.
Share this page
Find related events by keyword