PepsiCo Sales Open House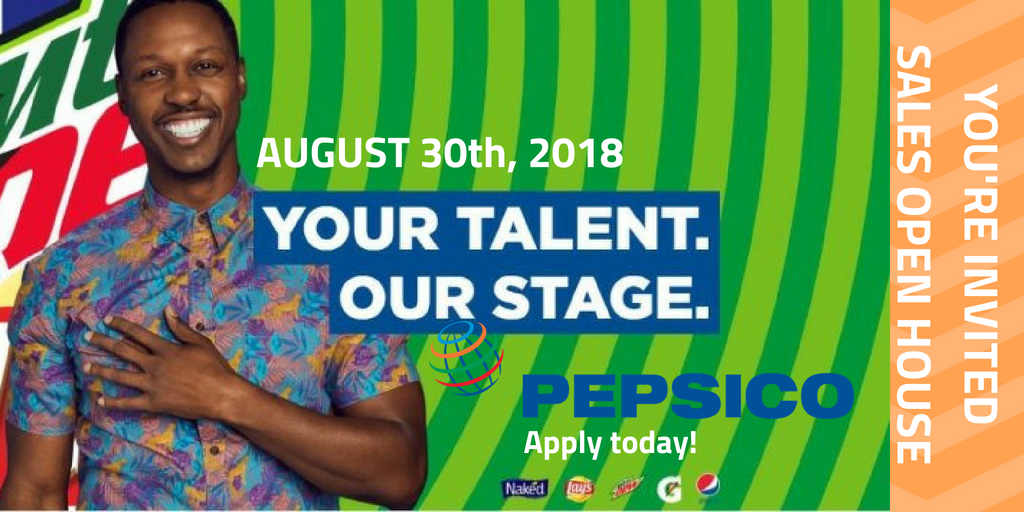 Details
Are you passionate about jump starting an exciting career in Sales? Do you want to work for a Tier 1 global organization and join a Sales team of trailblazing passionate leaders? 
PepsiCo offers endless possibilities to drive your career!
You are invited to apply to PepsiCo Canada's 1st ever  Sales Open House Info Session where you will have the opportunity to learn about what a true Sales career entails. You will get a direct line of sight to their exciting new Grad and Internship opportunities, as well as meet PepsiCo's Sales Team.
Why Choose the PepsiCo Leadership Program?
•Early Responsibility: Accelerate your career progression with early responsibility
and leadership
•Make an Impact: Contribute in a fast paced, and dynamic industry where you can strive for growth
•Development and Coaching: Develop yourself and learn to develop others at
a company where our People are a strategic priority
•Mega Brands: Make tangible impact on Global brands!
Come out to learn more! The night will consist of a plant tour, networking and of course… fun!
**Attendance is limited. Apply by August 26th for your spot at the open house before spots run out! An RSVP confirmation will be sent to successful applicants.
Apply by submitting your resume at PepsiCo's Career Page. Please search by Req ID- 154661BR
About the Business Career Development Centre
The Business Career Development Centre offers tailored career assistance to business students at the University of Guelph. It provides access to workshops, events and services including mentoring and networking opportunities, one-on-one career coaching, and assistance building your professional online presence. For more information, visit the Business Career Development Centre web page.
Share this page
Find related events by keyword