PepsiCo's Finance Open House
Location
5550 Explorer Dr, Mississauga, Ontario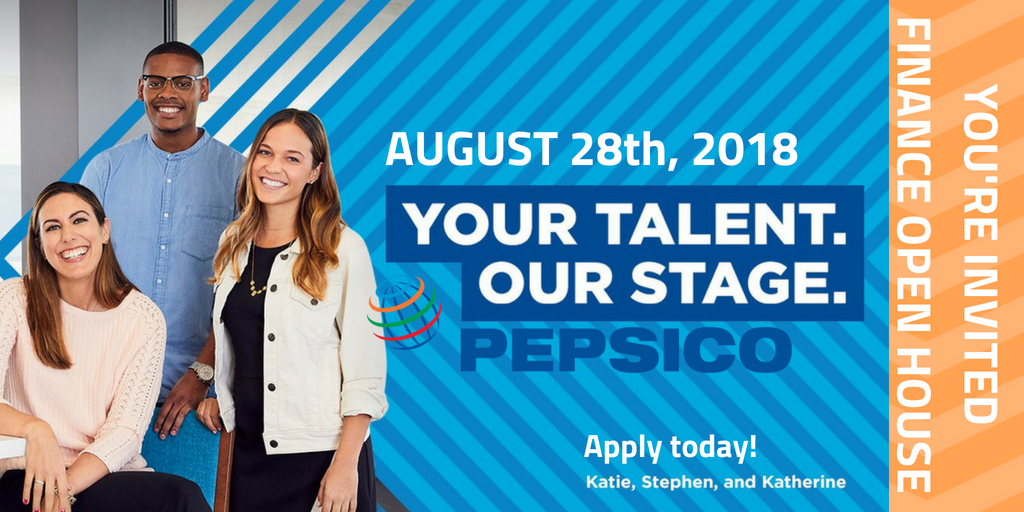 Details
Are you passionate about starting a career in Finance? Do you want to work for a Tier 1 global organization and join a Finance team that prides itself on being a solid strategic partner and advisor to the business?
PepsiCo offers endless possibilities to drive your career!
You are invited to apply to PepsiCo Canada's annual Finance Open House Info Session. Open to current students looking for coop or summer internships AND graduating students looking for full-time positions in May-Sept 2019. You will have the opportunity to learn about their New Grad and student opportunities, as well as meet their Finance Team, Senior Executives and CFO. The night will consist of unique breakout sessions, networking and of course… fun! **If you are looking to apply for the Finance Leadership Program at PepsiCo by the deadline of August 29th, we HIGHLY recommend you also apply to attend this Open House the day prior to make your mark and meet representatives in person.
Dress your best and be prepared. Make sure they remember you - To order your own professional business cards for networking with PepsiCo's employees, fill in the order form on The Business Career Development Centre Resource Portal on CourseLink and have your cards within 48hrs at ClickSigns in the University Centre!!
Attendance is limited – Apply today for your spot at the open house by visiting PepsiCo's Open House Application Page
**Application deadline: August 12th, 2018
About the Business Career Development Centre
The Business Career Development Centre offers tailored career assistance to business students at the University of Guelph. It provides access to workshops, events and services including mentoring and networking opportunities, one-on-one career coaching, and assistance building your professional online presence. For more information, visit the Business Career Development Centre web page.
Share this page
Find related events by keyword