TELUS Recruiting Event on Campus
Location
On the north end of campus in Macdonald Hall, Room 232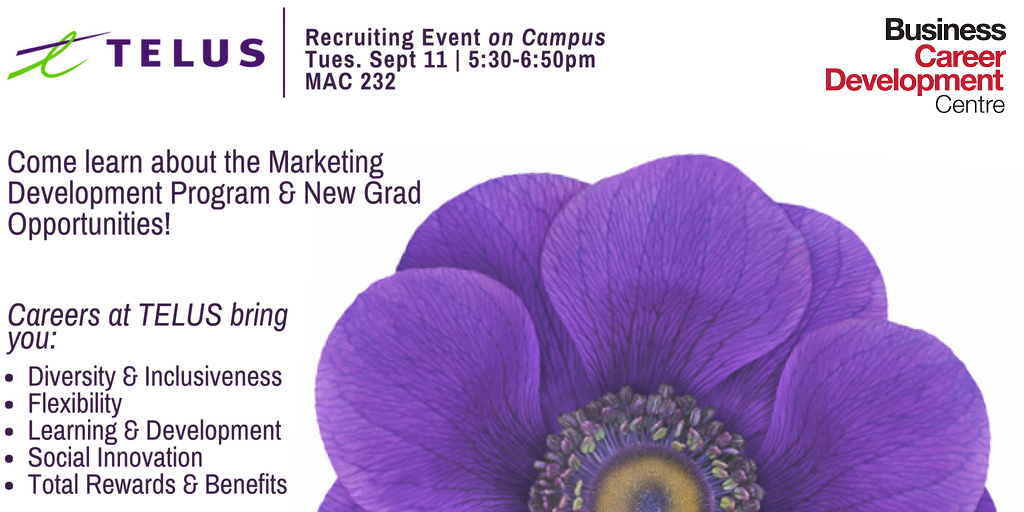 Details
TELUS is coming to campus!! This great workplace has so much to offer, come see for yourself! The evening will be hosted on campus and will consist of an evening of networking.
At this event, learn about:
The Marketing Development Program (MDP), a two year rotational opportunity designed to develop and equip graduates with the skills to become marketing leaders. Benefits of the program include: • Gain practical experience on 3 different marketing teams within the two year Program, with the opportunity to work with various TELUS leaders. • Tailor your career path with rotations based on career interests, key business priorities, and areas of development to help you grow professionally. • Get assigned a Director-level mentor to guide you throughout the program. • Gain the opportunity to apply and land in an area of interest after completing the program.
Check out the YouTube video for more info.
New grad opportunities – "It doesn't matter who you are, what you do or how you do it, at TELUS, your unique contribution and talents will be valued and respected. Because the more different opinions we have the more likely we are to crack the code on what our customers want and our communities need." -TELUS
Don't miss out!! **This business casual event is open for students entering their final year of undergraduate studies, and spots will be filled on a first-come, first-serve basis. Register to attend via Recruit Guelph's upgraded system using your central login ID. (Emails with further details will be sent out to all attendees the week prior to the event.)
About the Business Career Development Centre
The Business Career Development Centre offers tailored career assistance to business students at the University of Guelph. It provides access to workshops, events and services including mentoring and networking opportunities, one-on-one career coaching, and assistance building your professional online presence. For more information, visit the Business Career Development Centre web page.
Share this page
Find related events by keyword