Excel Workshop with The Marquee Group For Commerce students
Location
In the University Centre, Room 442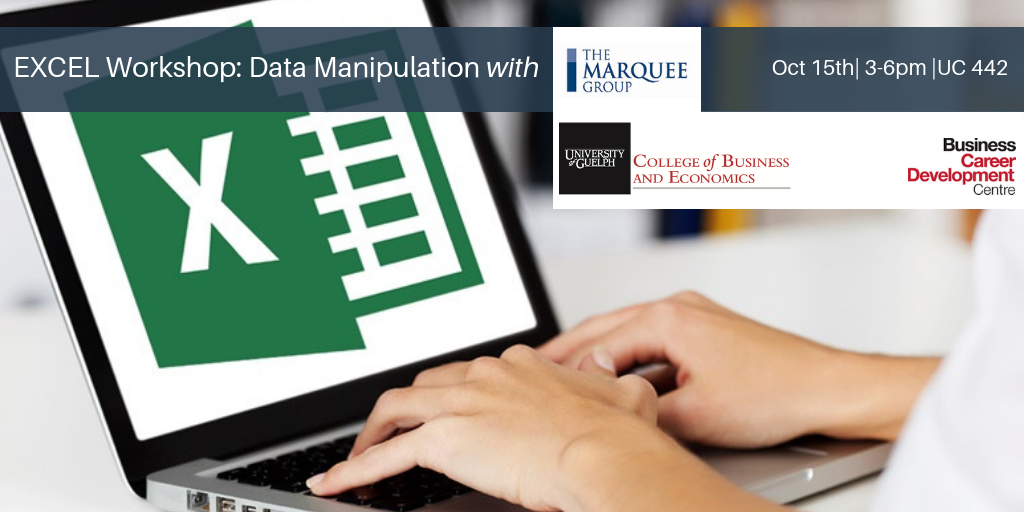 Details
Save your spot today! 

The Marquee Group, Canada's leading provider of financial modeling training programs, in conjunction with the Business Career Development Centre, is pleased to offer its Excel seminar to University of Guelph students.
This is a three hour seminar that combines interactive discussions with hands-on Excel computer work. Please note: Bring your laptop!
 
Course Benefits:
Transforms participants into Excel "Power Users" 
Bridges the gap between academic course work and real-world application
Prepares students for employment in the business world
Covers topics included in the training provided by major banks and corporations
Individualized attention from instructors 
Experienced instructors are seasoned financial professionals
Program Agenda
Overview
The ability to effectively analyze large quantities of data is a fundamental requirement in most corporate jobs. This course has been designed specifically to prepare participants for the rigor and expectations of manipulating and synthesizing data in a business environment
Assignments, handouts and examples will be used throughout the session
Students should have a strong working knowledge of Excel prior to taking this course
Learning Topics
Use numerous built-in Excel functions to interpret and manipulate data
Use various filters in conjunction with specific arithmetic functions to summarize large volumes of data
Use Lookup functions to efficiently extract specific information
Create nested formulas to expand the flexibility of various functions
Become proficient with Pivot Tables to quickly analyze and format large quantities of data
Incorporate widely used financial and arithmetic functions
Use logical functions to create complex formulas
Learn to use many valuable keyboard shortcuts

About The Marquee Group
 
Established in 2002, The Marquee Group specializes in providing current and aspiring financial professionals the tools they need to master the most important areas of financial modeling and analysis. 
Marquee has provided instructor-led training seminars to thousands of professionals and students in Canada, the United States, the United Kingdom, Mexico, Australia and China.
 
For several years, The Marquee Group has conducted the annual training programs at numerous banks, pension funds and business schools.

Register today via ExperienceGuelph to save your spot for the event. Space is limited. Fee is $25.00 to be collected upon reminders.
About the Business Career Development Centre
The Business Career Development Centre offers tailored career assistance to business students at the University of Guelph. It provides access to workshops, events and services including mentoring and networking opportunities, one-on-one career coaching, and assistance building your professional online presence. For more information, visit the Business Career Development Centre web page.
Share this page
Find related events by keyword