Excel Workshop with The Marquee Group For Commerce students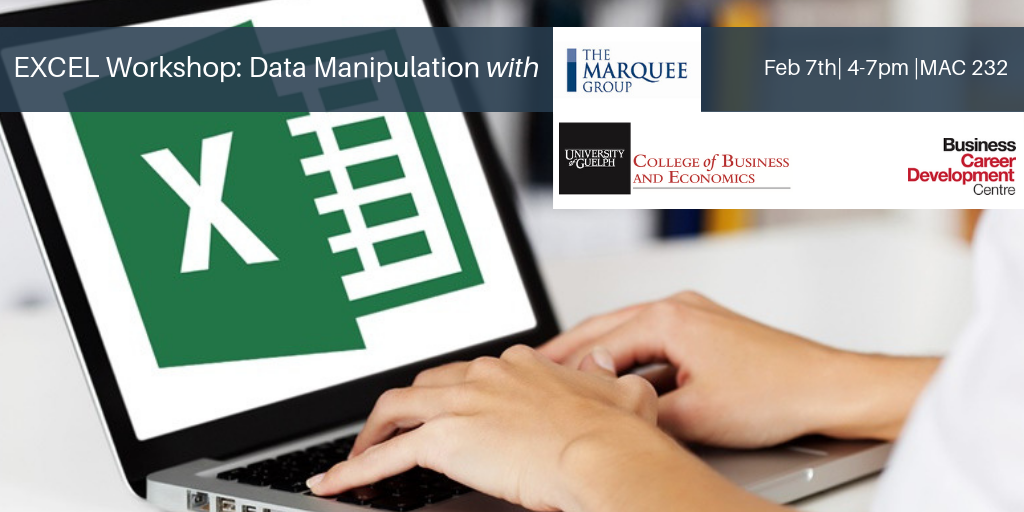 Details
This hands-on course is an intensive program that will transform participants into Excel "Power Users". The course is focused on the pertinent Excel tools that are required in a business environment to efficiently analyze and manipulate data and to create compelling financial analyses. 

Topics Include
Use numerous built-in Excel functions to interpret and manipulate data
Use various filters in conjunction with specific arithmetic functions to summarize large volumes of data
Use Lookup functions to efficiently extract specific information
Create nested formulas to expand the flexibility of various functions
Become proficient with Pivot Tables to quickly analyze and format large quantities of data
Incorporate widely used financial and arithmetic functions
Use logical functions to create complex formulas
Learn to use many valuable keyboard shortcuts
This seminar is designed for anyone who wants to use Excel to manipulate data to create compelling financial analyses.

Special Instructions:
Attendees must bring their own laptop with access to Excel.
This course assumes the participant has a good working knowledge of Excel
PLEASE NOTE: Registration closes Sunday, Feb 3rd at 11:59pm as the Marquee Group will need to prepare materials for this workshop
Registration is $25.00, please use the event page to purchase your ticket prior to the event
About the Business Career Development Centre
The Business Career Development Centre offers tailored career assistance to business students at the University of Guelph. It provides access to workshops, events and services including mentoring and networking opportunities, one-on-one career coaching, and assistance building your professional online presence. For more information, visit the Business Career Development Centre web page.
Share this page
Find related events by keyword