GWIL presents: OWN IT - a Female Entrepreneurship Panel
Location
The Modern Bride, 15 Wyndham Street North, Guelph (3rd Floor)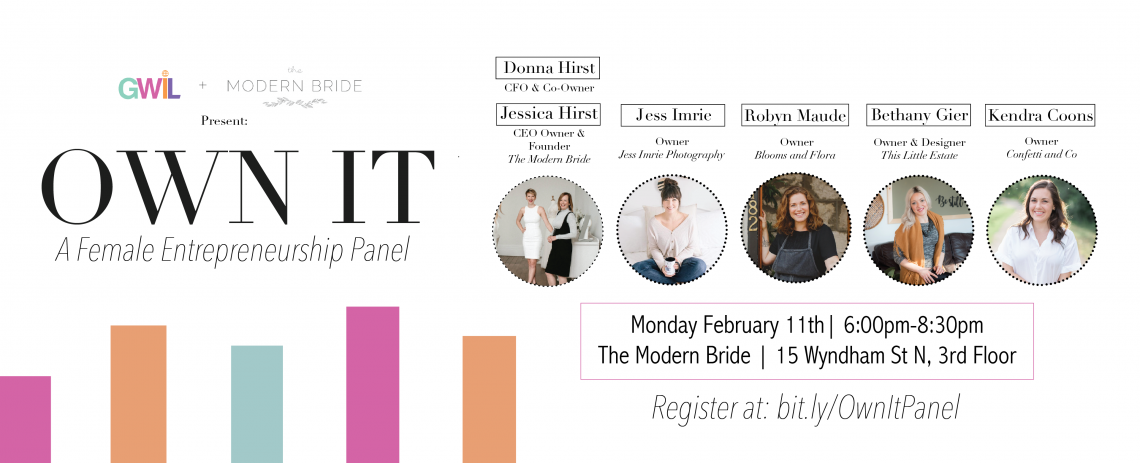 Details
SOLD OUT
Guelph Women in Leadership (GWIL) have partnered with the Modern Bride to present OWN IT, a female entrepreneurship panel event.
The panel features 6 female entrepreneurs:
Donna Hirst | CFO and Co-Owner, The Modern Bride
Jessica Hirst | CEO Owner and Founder, The Modern Bride
Jess Imrie | Owner, Jess Imrie Photography
Robyn Maude | Owner, Blooms and Flora
Bethany Gier | Owner and Designer, This Little Estate
Kendra Coons | Owner, Confetti and Co
The event takes place February 11 from 6:00pm to 8:30pm at the Modern Bride (115 Wyndham Street North, Guelph).
SOLD OUT
---
GWIL was founded in 2014 and is aimed at providing inspiration, leadership and empowerment for all students, particularly women. Within 3 short years, the delegation has grown from a single member to 20 young women who are extremely passionate advocates for gender equality on our campus and in society as a whole.