CPA Office Hours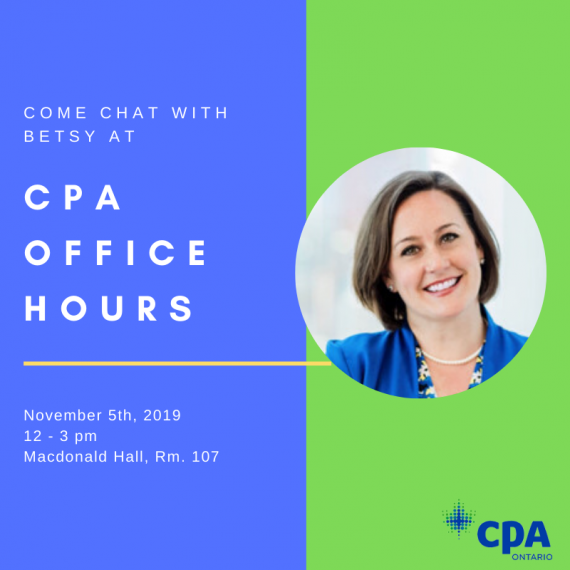 Details
Join Betsy, from CPA Ontario, to learn how the Chartered Professional Accountant (CPA) designation can expand your career opportunities.
The CPA designation can provide you with a variety of options in most industries. Find out more about what a career in business and accounting is really like, and have your questions answered.
Become a CPA and take on a leadership role — one that both offers employment opportunities around the globe and allows you to use financial data to develop strategies and guide organizations.
The CPA certification program is designed to ensure that all CPAs have a strong foundation of ethics, knowledge and skill. Each CPA designation is earned through completing the graduate-level CPA Professional Education Program (CPA PEP) and relevant practical experience. CPAs navigate through complexity to drive success across all industries and in organizations of any size.
The nationally developed and provincially delivered CPA certification program consists of:
Academic prerequisites with specific area coverage.
The CPA Professional Education Program, which includes the Common Final Examination (CFE).
Thirty months of recognized relevant practical experience.
To book a time to meet with CPA Ontario representative Betsy, register via ExperienceGuelph.ca
About the Business Career Development Centre
The Business Career Development Centre offers tailored career assistance to business students at the University of Guelph. It provides access to workshops, events and services including mentoring and networking opportunities, one-on-one career coaching, and assistance building your professional online presence. For more information, visit the Business Career Development Centre web page.
Share this page
Find related events by keyword