More Than Beer: Inclusion & Diversity at Labatt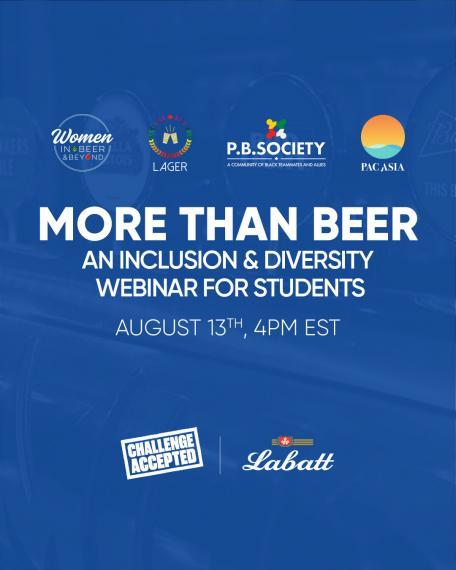 Details
More Than Beer- Inclusion & Diversity 
- Presented by the Employee Resource Groups at Labatt -

Date: Thursday, August 13, 2020
Time: 4:00 pm - 6:00 pm EST
Where: Zoom link will be sent to registrants prior to the event.  Please make sure to use the same email address you enter on the registration link below to lgin to Zoom for the event
Register here:  https://docs.google.com/forms/d/e/1FAIpQLSeG6bsP75h3u1MCXpg4tOhFIFmZ7flVIrY9-19m25SnlVGSNQ/viewform by Friday, August 7, 6:00 pm EST

More Than Beer – Inclusion & Diversity at Labatt is a Webinar exploring the equity initiatives of the Employee Resource Groups (ERGs) within Labatt. Learn about Labatt's Inclusion & Diversity Strategies and Initiatives, through the lens of the Employeer Resource Group (ERG) Leaders.

4 different ERGs at Labatt, each supporting a Community group:
LAGER [Empowering the LGBTQ+ community]
Women In Beer and Beyond [creating a community where female leadership can thrive]
PAC-ASIA [Pacific-Asia: A community for Asian teammates and allies]
Porter-Brown [A community for Black teammates and allies]
These Communities share common interests or life experiences and come together through discussions, celebrations, and beyond, creating a safe space for employees to feel comfortable in coming to work each and every day as their authentic selves.

If you are additionally interested in the Labatt Internship or Talent Program opportunities, then be sure not to miss out on this opportunity!
About the Business Career Development Centre
The Business Career Development Centre (BCDC) offers tailored career support to business students at the University of Guelph. The BCDC provides access to workshops, events and services including mentoring and networking opportunities, one-on-one career coaching, and assistance building your professional online presence. The BCDC strives to ensure the legitimacy of external events and workshops posted we promote to students. As a participant in any event or workshop, we encourage you to exercise due diligence, and research the integrity of the organization(s) prior to attending. If you have any questions or concerns, please contact our office.
Share this page
Find related events by keyword