Alumni Night -Hosted by Guelph Black Professionals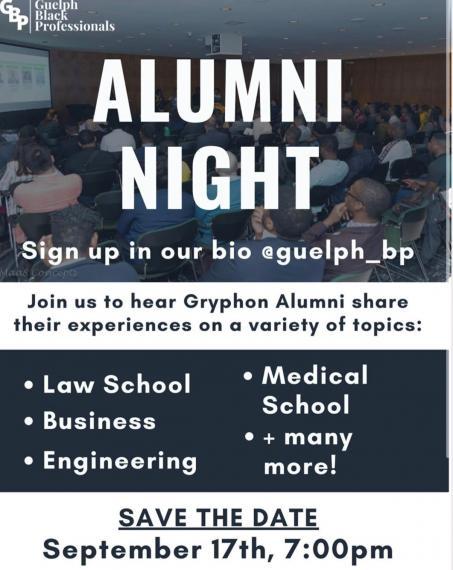 Details
Join us to hear Black Gryphon Alumni share their experiences on a variety of topics including:
Law School
Business
Engineering
Medical School
& many more!
Starting at 7:00pm, the Guelph Black Professionals are having alumni who specialized in business, law, medicine, and engineering come and speak at our event and answer any of your questions.
This is an event you don't want to miss! View more info and additional Alumni Features via their instagram page @guelph_bp
Register today: https://docs.google.com/forms/d/1J4OqOFJCBgz--eyxOifX_eVij6L8S1zcvAY5_85-Z7o/edit
About the Business Career Development Centre
The Business Career Development Centre (BCDC) offers tailored career support to business students at the University of Guelph. The BCDC provides access to workshops, events and services including mentoring and networking opportunities, one-on-one career coaching, and assistance building your professional online presence. The BCDC strives to ensure the legitimacy of external events and workshops posted we promote to students. As a participant in any event or workshop, we encourage you to exercise due diligence, and research the integrity of the organization(s) prior to attending. If you have any questions or concerns, please contact our office.
Share this page
Find related events by keyword