Commerce Careers Open House Fall 2020
Location
Online via virtual Symplicity platform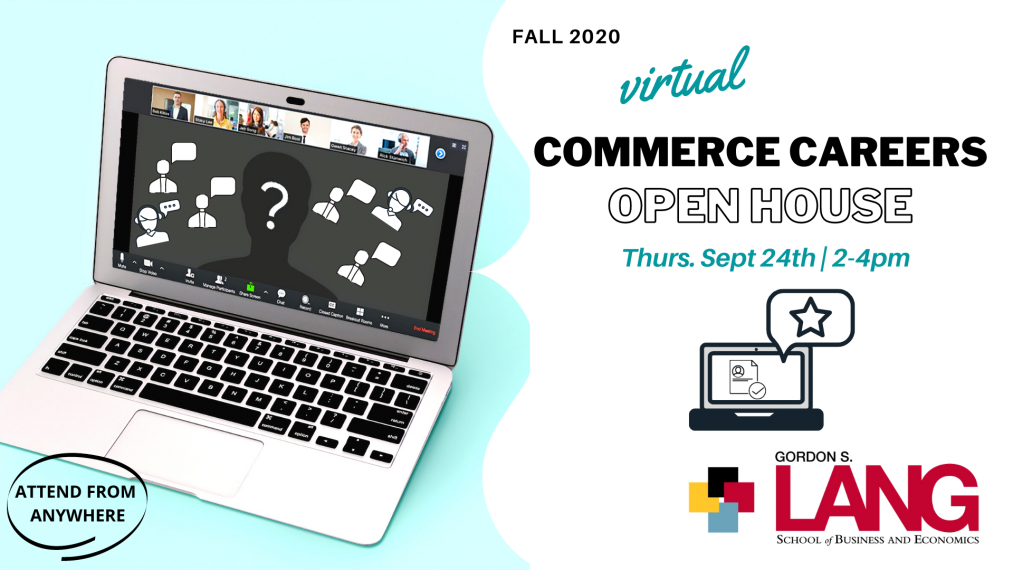 Details
The Gordon S. Lang School of Business & Economics is pleased to invite you to our Fall 2020 Commerce Careers Open House held virtually this year for students in the Bachelor of Commerce program with an interest in pursuing careers in Business.  This is a great opportunity to network with prospective employers from all areas and hear about new grad, summer and co-op opportunities available within your grasp. So don't miss out! 
Commerce Careers Open House Fall 2020
Date: Thursday, September 24th, 2020 
Time: 2:00pm – 4:00pm
Location:  Virtual platform powered by Symplicity
Why you should attend:
This is the main recruiting event for students in all years and majors of the Bcomm program.
Meet with prospective employers from multiple organizations in 1 on 1 chats or in larger group sessions. (See list below)
Create your own professional profile and upload your resume to share with recruiters.
Hear about the many new grad, summer and co-op opportunities available within your grasp.
Be able to view company profiles, links to job postings and other valuable career information.
Access the event from anywhere - from the comfort of your home - for FREE
How to Register:
Step 1: Visit https://elhub-guelph-csm.symplicity.com/events/ccohfall20
Step 2: Click on I want to attend: As a Job Seeker
Step 3: Login using your U of G central login and password
Step 4: Click on Events then Career Fairs and Networking Events
Step 5: Select Commerce Careers Open House Fall 2020 and click the red Attend button
**Internet Explorer is not supported by this platform, please use another browser.
How to Prepare:
Complete your profile as completely and accurately as possible.
Upload a recent copy of your resume. See below for resume resources.
If you have an active LinkedIn account, add the link for employers to view ahead of time.
Before the fair, mark your favorite employers by clicking on the "Interested" star icon, so that they will display at the top of your list.
Attend virtual office hours hosted by the Business Career Development Centre. See the events calendar for upcoming sessions.
List of Participating Employers:
About the Business Career Development Centre
The Business Career Development Centre (BCDC) offers tailored career support to business students at the University of Guelph. The BCDC provides access to workshops, events and services including mentoring and networking opportunities, one-on-one career coaching, and assistance building your professional online presence. The BCDC strives to ensure the legitimacy of external events and workshops posted we promote to students. As a participant in any event or workshop, we encourage you to exercise due diligence, and research the integrity of the organization(s) prior to attending. If you have any questions or concerns, please contact our office.
Share this page
Find related events by keyword