Finance Industry Insider Office Hours with Darren Molloy
Location
Online from the comfort of your home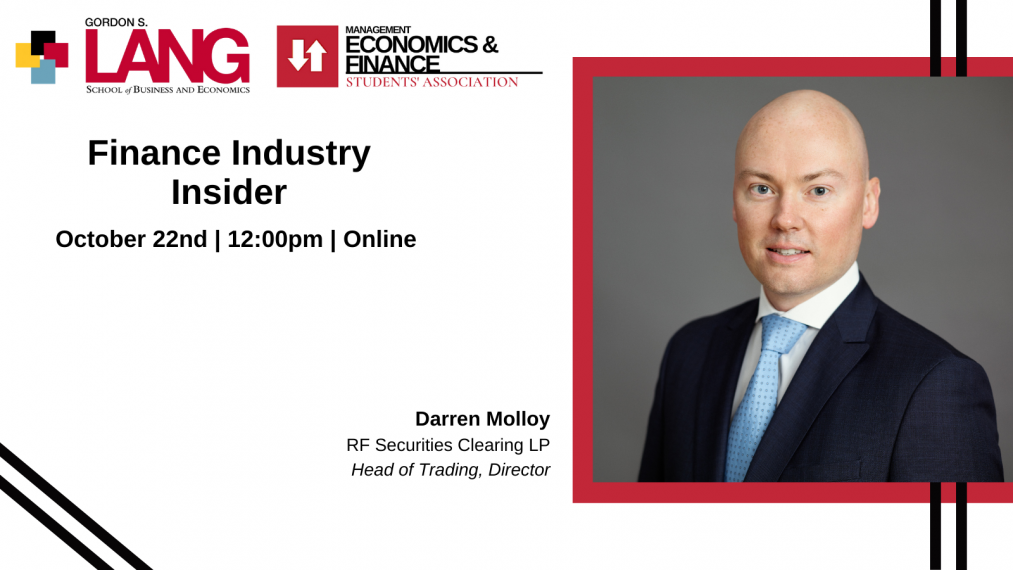 Details
Welcome to our Industry Insider Series, where industry professionals from a variety of business majors weigh in on career-related questions during a live chat and Q&A session. They will share their stories of how they progressed from their undergraduate degree to where they are now.
Co-hosted by the Management Economics and Finance Student's Association, the October 22nd Finance Insider Event is a great chance to meet with Alumni who have been in your position and gain advice on how to succeed in the finance industry.
Our guest speaker is Darren Molloy. He is Head of Trading, Director – Equities, Options & FX for RF Securities Clearing LP. RF Securities provides carrying broker services to both Richardson GMP and Stifel Canada. With nearly twenty years of experience in the Canadian securities industry, Darren leads equity trading operations for Richardson GMP clients specializing in equities, options and foreign exchange trade execution services. Prior to Darren's career at RF Securities, he also gained experience in a variety of departments at National Bank Independent Network (NBIN) within new issues and private placements, credit, registered products, and ultimately made his way into trading equities and options for NBIN's senior retail and institutional clients.    
Darren has also spoken publicly on retail trading in Canada at the Canadian Securities Traders Association Conference as well as on market structure and its impact on best execution hosted by the Conduct, Compliance and Legal Advisory Section of IIROC. Darren resides in Toronto and holds a Bachelor of Commerce from the University of Guelph. He also has shown a determined commitment to the importance of education through an enhanced track record of course completions offered through the Canadian Securities Institute. He is also an active alumni supporter and donor to the University of Guelph. 

This event will be held through the University of Guelph Business Cafe platform powered by Ten Thousand Coffees. A zoom link to join will be sent 24hrs prior for registered attendees.
RSVP NOW to save your spot! If you are already a member of the U of G Business Cafe, click here to register to attend online. If you are not a member, please click here to add your name and uoguelph email to join then RSVP to this Virtual Office Hour. You can find all office hours held on the left hand menu in your Business Cafe profile.
PLEASE NOTE: This webinar is held for BCOMM Students only.
About the Business Career Development Centre
The Business Career Development Centre (BCDC) offers tailored career support to business students at the University of Guelph. The BCDC provides access to workshops, events and services including mentoring and networking opportunities, one-on-one career coaching, and assistance building your professional online presence. The BCDC strives to ensure the legitimacy of external events and workshops posted we promote to students. As a participant in any event or workshop, we encourage you to exercise due diligence, and research the integrity of the organization(s) prior to attending. If you have any questions or concerns, please contact our office.
Share this page
Find related events by keyword