Real Estate & Housing Industry Insider Office Hours with Devan Sloan
Location
Online from the comfort of your home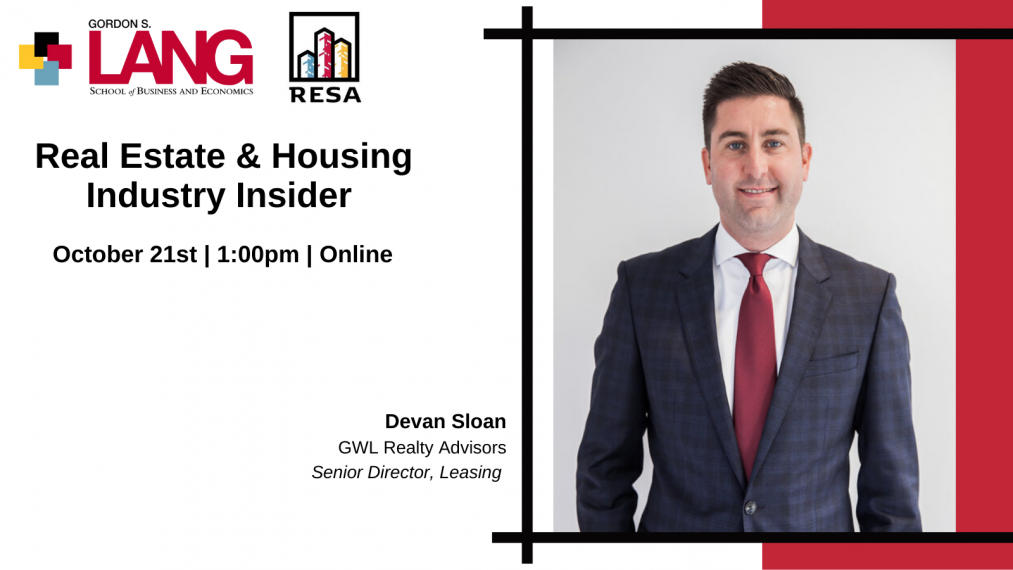 Details
Welcome to our Industry Insider Series, where industry professionals from a variety of business majors weigh in on career-related questions during a live chat and Q&A session. They will share their stories of how they progressed from their undergraduate degree to where they are now.
Co-hosted by the Real Estate Students' Association, the October 21st Real Estate & Housing Insider Event is a great chance to meet with Alumni who have been in your position and gain advice on how to succeed in the real estate industry.
Our guest speaker is Devan Sloan, who has over 10 years of real estate industry experience and has held increasingly senior roles at GWL Realty Advisors over the course of his 5 year tenure. As Senior Director, Leasing, Devan is currently responsible for the leasing performance of the GTA Office portfolio, comprising 6.5M sf and approximately 300 tenants. Prior to GWL Realty Advisors, Devan began his career at M.J. Lawson Real Estate, a boutique brokerage catering exclusively to high net worth German investors. Over the course of his career, Devan has been involved in 500+ lease transactions valued in excess of $250M representing millions of square feet. Devan holds a Masters of Finance from the Queens Smith School of Business and a Bachelor of Commerce in Real Estate and Housing from the University of Guelph.
This event will be held through the University of Guelph Business Cafe platform powered by Ten Thousand Coffees. A zoom link to join will be sent 24hrs prior for registered attendees.
RSVP NOW to save your spot! If you are already a member of the U of G Business Cafe, click here to register to attend online. If you are not a member, please click here and add your name and uoguelph email to join then RSVP to this Virtual Office Hour. You can find all office hours held on the left hand menu in your Business Cafe profile.
 
PLEASE NOTE: This webinar is held for BCOMM Students only.
About the Business Career Development Centre
The Business Career Development Centre (BCDC) offers tailored career support to business students at the University of Guelph. The BCDC provides access to workshops, events and services including mentoring and networking opportunities, one-on-one career coaching, and assistance building your professional online presence. The BCDC strives to ensure the legitimacy of external events and workshops posted we promote to students. As a participant in any event or workshop, we encourage you to exercise due diligence, and research the integrity of the organization(s) prior to attending. If you have any questions or concerns, please contact our office.
Share this page
Find related events by keyword