Marriott International Virtual Panel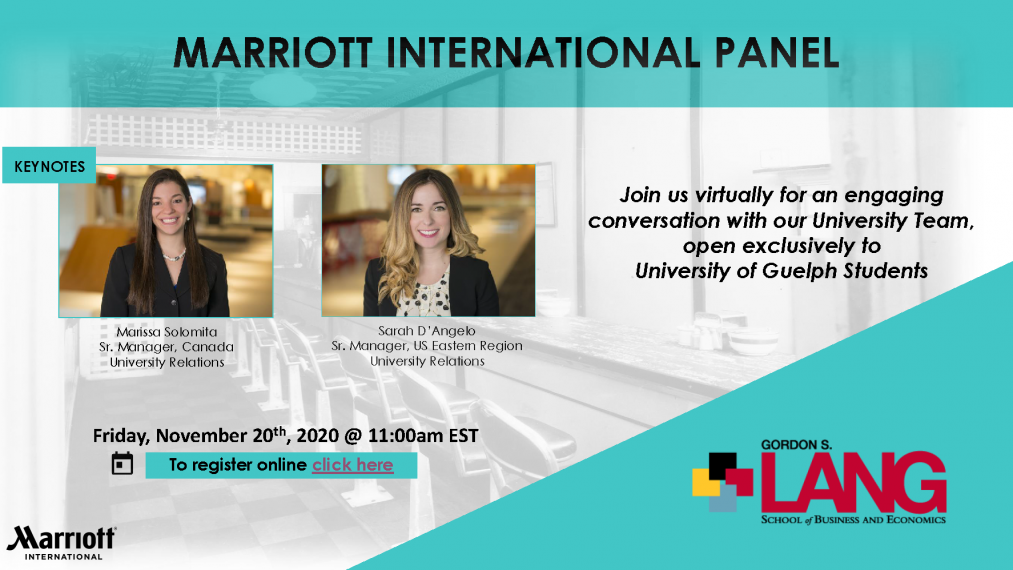 Details
Join Marriott virtually for an engaging conversation with their University Team, open exclusively to U of G students!
Find out more about Marriott and future available opportunities.
Date:  Friday, November 20th
Time: Beginning at 11:00am
"Marriott International has 30 renowned hotel brands in 131 countries around the world, and we're still growing. Opportunities abound! The next step in your career could lead to your greatest adventure...Bring your enthusiasm and determination, and we'll show you a world of opportunity. Marriott International offers programs for university students and graduates to kickstart your dream career." 
Register: https://marriott.recsolu.com/external/events/8Csaduvr23rntfD4BuQk_w
About the Business Career Development Centre
The Business Career Development Centre (BCDC) offers tailored career support to business students at the University of Guelph. The BCDC provides access to workshops, events and services including mentoring and networking opportunities, one-on-one career coaching, and assistance building your professional online presence. The BCDC strives to ensure the legitimacy of external events and workshops posted we promote to students. As a participant in any event or workshop, we encourage you to exercise due diligence, and research the integrity of the organization(s) prior to attending. If you have any questions or concerns, please contact our office.
Share this page
Find related events by keyword