Restaurant Brands International Internship Speaker Series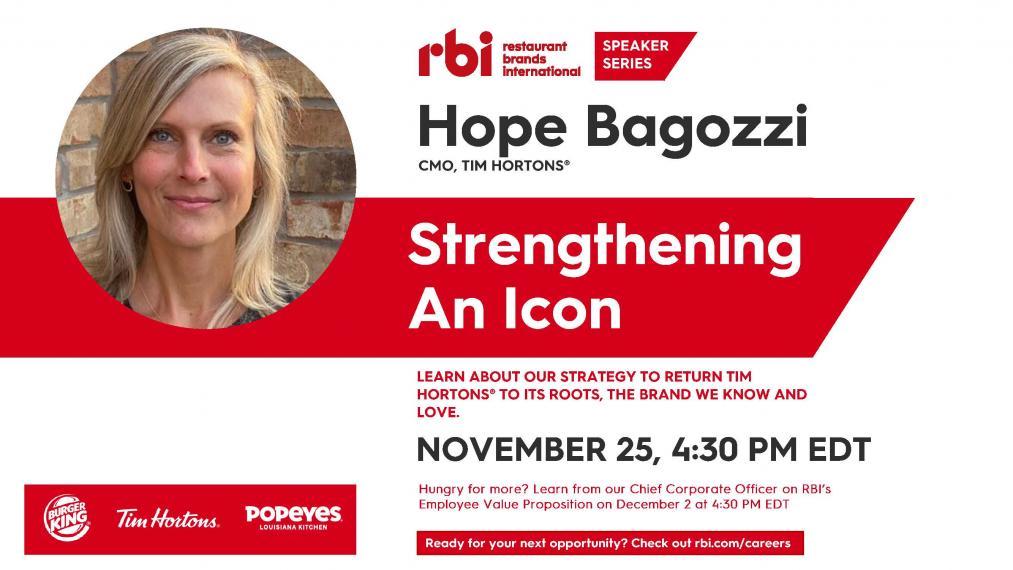 Details
Join Restaurant Brands International (RBI) for their Internship Speaker Searies virtual session: "Strengthening an Icon" by Hope Bagozzi, Chief Marketing Officer.
Learn about their strategy to return Tim Horton's to its roots, the brand we know and love.
 
Date: November 25th, 2020
Time: 4:30PM 

Event Agenda:
RBI Company Presentation (30-40 mins)
Q&A with the Event Keynote Speaker (10 mins)
RBI Internship Recruitment Overview & Q&A (10 mins)
(Click here to join the session on Nov 25th)
About the Business Career Development Centre
The Business Career Development Centre (BCDC) offers tailored career support to business students at the University of Guelph. The BCDC provides access to workshops, events and services including mentoring and networking opportunities, one-on-one career coaching, and assistance building your professional online presence. The BCDC strives to ensure the legitimacy of external events and workshops posted we promote to students. As a participant in any event or workshop, we encourage you to exercise due diligence, and research the integrity of the organization(s) prior to attending. If you have any questions or concerns, please contact our office.
Share this page
Find related events by keyword