Master Virtual Interviews: Webinar & Panel Discussion for HR practitioners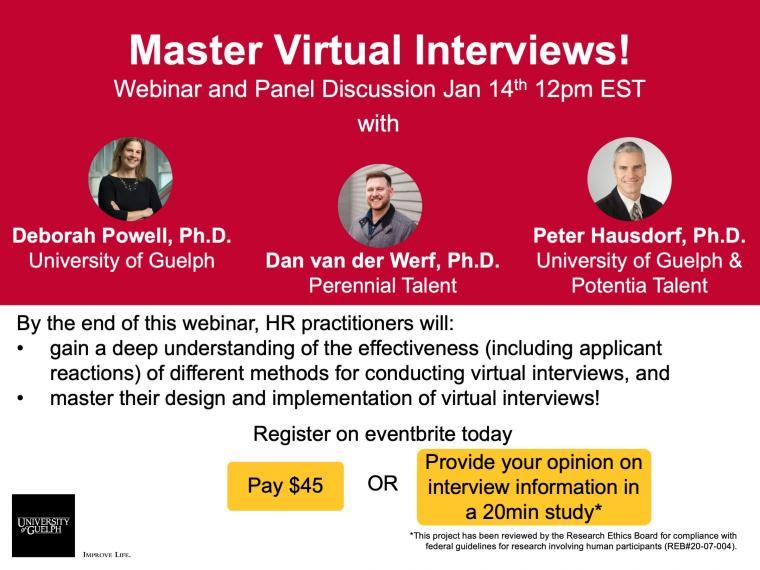 Details
A webinar and panel discussion of virtual interviewing. Can they still be effective and how do applicants react?
About this Event
By the end of this webinar, HR practitioners will:
gain a deep understanding of the effectiveness of (including applicant reactions to) different methods for conducting virtual interviews, and
master their design and implementation of virtual interviews!
Thus, the first hour will be an interactive webinar presentation of current evidence regarding the effectiveness and applicant reactions to virtual interviewing. The second hour will be a panel discussion of the effectiveness of and considerations for implementing virtual interviews, with panelists that span practice and research, with expertise with both in-person and virtual interviewing.
The panel will consist of Dan van der Werf from Perennial Talent, Peter Hausdorf from Potentia Talent and the University of Guelph, and Deborah Powell from the University of Guelph (Director of the Guelph Selection Lab @InterviewGuelph).
More information on the panelists can be found on their Linkedin profiles:
Free registration is available for those that participate in a 20-min study* where you are asked to provide your opinion on interview information prior to the webinar. You will also be able to leave your email to receive an advanced copy of the aggregate results.
Use the below link to participate in the study* and recieve the code to access free registration for this webinar/panel.
https://uoguelph.eu.qualtrics.com/jfe/form/SV_5bgGVj9ktMu8weN
*This project has been reviewed by the Research Ethics Board for compliance with federal guidelines for research involving human participants (REB#20-07-004).
Please contact Jessica Sorenson (jsorenso@uoguelph.ca) if you have any questions about this webinar or any trouble registering.
About the Business Career Development Centre
The Business Career Development Centre (BCDC) offers tailored career support to business students at the University of Guelph. The BCDC provides access to workshops, events and services including mentoring and networking opportunities, one-on-one career coaching, and assistance building your professional online presence. The BCDC strives to ensure the legitimacy of external events and workshops posted we promote to students. As a participant in any event or workshop, we encourage you to exercise due diligence, and research the integrity of the organization(s) prior to attending. If you have any questions or concerns, please contact our office.
Share this page
Find related events by keyword