Why Tangerine? Virtual Session 1: Summer Internship Opportunities REGISTRATION CLOSED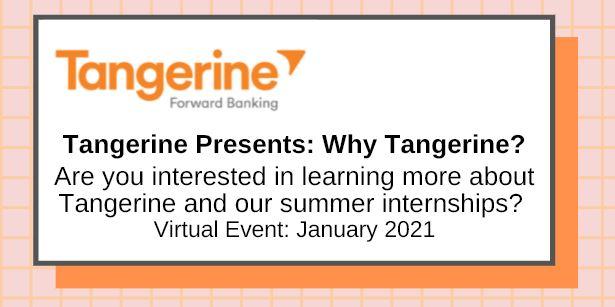 Details
REGISTRATION CLOSED JAN 15TH
Are you interested in learning more about Tangerine and their summer internships? They are HIRING! If you are interested in a position at Tangerine, we highly recommend you attend this virtual event.
In order for them to attend, you'll be required to complete the following application survey and a video assessment.
There will be two dates where these sessions will take place: 
January 20th, 2021 (10-12pm, or 2-4pm)
January 21st, 2021 (10-12pm, or 2-4pm)
**Please complete your one-way video assessment by 12:00PM Friday, January 15, 2021 (EST).
Tangerine Summer 2021 Job Postings:
*Deadline: January 29th, 2021
About the Business Career Development Centre
The Business Career Development Centre (BCDC) offers tailored career support to business students at the University of Guelph. The BCDC provides access to workshops, events and services including mentoring and networking opportunities, one-on-one career coaching, and assistance building your professional online presence. The BCDC strives to ensure the legitimacy of external events and workshops posted we promote to students. As a participant in any event or workshop, we encourage you to exercise due diligence, and research the integrity of the organization(s) prior to attending. If you have any questions or concerns, please contact our office.
Share this page
Find related events by keyword