Hitachi Capital Meet & Greet - Fall 2021
Location
Virtually via Microsoft Teams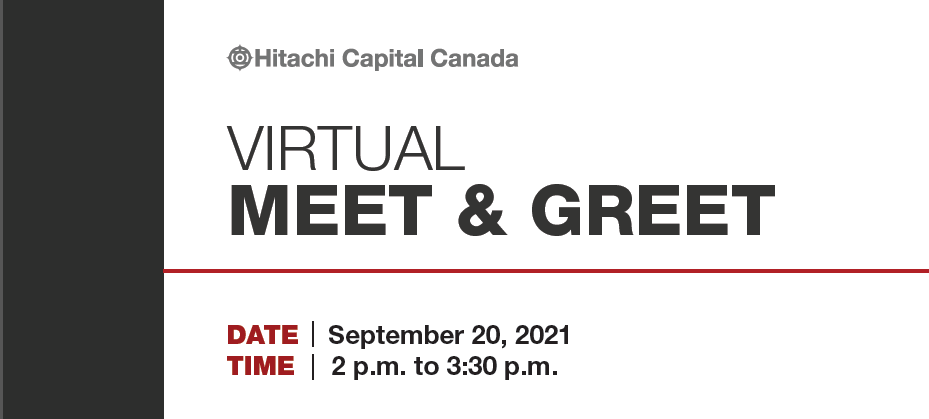 Details
When: September 20th, 2021, 2:00-3:30pm EST
Where: Virtually via Teams
How: Register by emailing rh@hitachicapital.ca by September 3rd. Teams invitation will follow.
Format: Brief presentation about Hitachi and the leasing industry, followed by open discussions in break out rooms with various current employees, former interns, and leaders.
"Hitachi Capital Canada is an independent financial institution that has first-hand experience with the realities of the business world. Hitachi offers flexible financing solutions through our specialized and experienced sales force for the needs of modern businesses, specifically leasing and loans. With a creative approach to funding our clients' goals, Hitachi represents a driven and entrepreneurial spirit that values people. Hitachi Capital is a global organization with over 5,000 employees in 30 countries.  We are committed to achieving sustainable business growth while adding value to our clients and society as a whole.
Hitachi Capital Canada invites you to a brief presentation followed by an open discussion about our company, the commercial equipment leasing industry, and the many valuable opportunities we have developed for students and recent graduates. We will showcase our range of diverse career paths with real employee success stories. Engage with current and former interns, new graduates hired right out of school, and those who have progressed into leadership positions at HCC in this virtual information session with breakout room discussions. Email rh@hitachicapital.ca to register. Hope to see you there!"
About the Business Career Development Centre
The Business Career Development Centre (BCDC) offers tailored career support to business students at the University of Guelph. The BCDC provides access to workshops, events and services including mentoring and networking opportunities, one-on-one career coaching, and assistance building your professional online presence. The BCDC strives to ensure the legitimacy of external events and workshops posted we promote to students. As a participant in any event or workshop, we encourage you to exercise due diligence, and research the integrity of the organization(s) prior to attending. If you have any questions or concerns, please contact our office.
Share this page
Find related events by keyword