Become a Property Inspector with MPAC! Virtual Career Info Session 1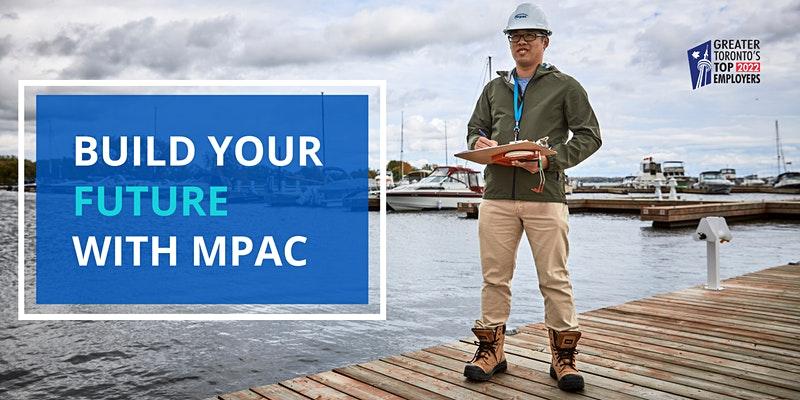 Details
The Municipal Property Assessment Corporation (MPAC) is excited to announce the recruitment of 55 full-time permanent Property Inspector positions across the province of Ontario. We're looking for recent graduates who are ready to put their educational skills into practice and start building their future.
We'd love the opportunity to describe what MPAC has to offer to new grads and have them learn more about the role.
The Property Inspector role at MPAC provides flexibility with a mix of in-field and in-office work (remote work may be required at times due to changing COVID-19 health and safety restrictions). You will be responsible for collecting data through on-site property inspections, critical to formulating accurate property assessment values. You will communicate with stakeholders internally and externally and have a chance to work with MPAC's cutting edge technology.
MPAC is an independent, not-for-profit corporation funded by all Ontario municipalities, accountable to the Province, municipalities and property owners through its 13-member Board of Directors. We are Ontario's property market experts! We create and maintain a comprehensive database of information for each of the more than five million properties in Ontario. We are responsible for delivering property values, insights and services to property owners, citizens, municipalities, governments, and businesses.
People are core to our success! We offer the challenge of interesting work, competitive compensation and benefits, and support for your growth and development.
Sign up for one of our upcoming virtual Career Info Sessions on January 18, 19 and 20 to learn more about MPAC and what it's like to work with us!
About the Business Career Development Centre
The Business Career Development Centre (BCDC) offers tailored career support to business students at the University of Guelph. The BCDC provides access to workshops, events and services including mentoring and networking opportunities, one-on-one career coaching, and assistance building your professional online presence. The BCDC strives to ensure the legitimacy of external events and workshops posted we promote to students. As a participant in any event or workshop, we encourage you to exercise due diligence, and research the integrity of the organization(s) prior to attending. If you have any questions or concerns, please contact our office.
Share this page
Find related events by keyword